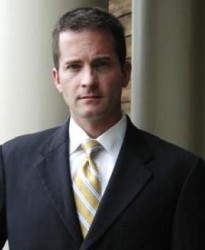 Damon Terrill
CONTACT: Tory Olson, 515-271-1834, tory.olson@drake.edu

International law and foreign policy expert Damon Terrill
will continue Drake University's spring lecture series on the United States and
the world Thursday, Feb. 12.
The talk, "Restoring the Rule of Law to U.S. National Security and Foreign Policy," will be held at 6:30 p.m. in Bulldog Theater in the
Olmsted Center, 2875 University Ave. The lecture is free and open to the
public.
Terrill is senior vice president and general counsel forInternational Legal and Regulatory Affairs at Integrated DNA Technologies.Previously, he served the Office of the Legal Adviser at the U.S Department of
State, handling international child abduction issues and "temporary
refuge." Through his involvement, he earned the department's Superior
Honor Award in 2005.
He recently wrote a book, "Restoring the Rule of Law to American National Security and Foreign Policy" as part of the American Security Project.
Terrill has worked in the Bureau of European and Eurasian
Affairs, handling the European Union and Yugoslavian portfolios. He also was
the bureau's press affairs officer from 2003-05.
The series is sponsored by Drake's Center for Global
Citizenship. More information on the center is available online at https://wwww.drake.edu/international/cgc/events.php.
For more information, call 515-271-2117.