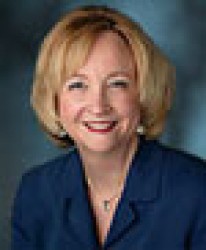 Mary Mincer Hansen
Drake University students devote a day to focus on "Taking the Lead in Preventing Disease" on Tuesday, Feb. 17. The annual Pharmacy and Health Sciences Day is organized by students in the College of Pharmacy and Health Sciences.
The event will kick off with a keynote speech by public health expert Mary Mincer Hansen, associate professor at Des Moines University. She previously served as director of Iowa Department of Public Health, associate professor at Drake and president of Iowa Public Health Foundation.
In her talk, Mincer Hansen will explore public health and disease prevention. The event, which is free and open to the public, will begin at 9 a.m. in Sheslow Auditorium in Old Main, 2507 University Ave.
Throughout the day, students will participate in mini discussions and professional development activities. They will discuss topics including financial planning after graduation, interdisciplinary relationships amongst health professionals and current health care issues.
In addition, students in Drake's Rx (Pharmacy) Unified Group of Students (DRxUGS) organization also will conduct a live and silent auction.
The college also will announce the Preceptor, Mentor and Teacher of the Year Awards and the Hartig Faculty Development Award, Hartig Distinguished Professor Award and Alumni Achievement Awards. Student awards and scholarships also will be announced.
Drake to present inaugural Granberg Award
In addition, the first C. Boyd Granberg Professional Leadership Award will be presented during Pharmacy and Health Sciences Day.
This annual award recognizes one faculty member for his or her service to professional organizations. The main purpose of the award is to foster ongoing personal and professional development of pharmacy faculty, recognize leadership role models and encourage involvement by students in professional organizations.
The recipient of the C. Boyd Granberg Professional Leadership Award provides a lecture to student graduates of the college's Student Leadership Series at their year-end banquet in April, and in May, the award recipient also addresses students at the College of Pharmacy and Health Sciences Doctor of Pharmacy Hooding Ceremony.
For information on the award criteria and nomination process, or to contribute to the Granberg Professional Leadership Fund, contact Emily Westergaard, major gift officer for the College of Pharmacy and Health Sciences, at 515-271-4049 or
Emily.hamilton@drake.edu
.