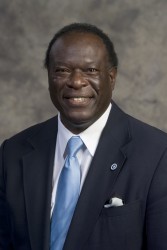 Dolph Pulliam
MEDIA CONTACT: Mike Mahon, 515-271-3014, mike.mahon@drake.edu
Former Drake University basketball standout Dolph Pulliam will be among 14 athletes to be inducted into the Indiana Basketball Hall of Fame in New Castle, Ind., March 25.
The ceremony will take place at the Primo Banquet Hall, which is located on the south side of Indianapolis, Ind.
"This was a total surprise," said Pulliam, who is director of community relations at Drake, while also serving as a basketball radio analyst for the Bulldogs. "I had never thought about being enshrined. It is the biggest honor I have ever received, especially in light of the other players being inducted. So this is quite an honor for my family."
Pulliam was a two-year starting forward at Roosevelt High School in Gary, Ind., earning all-state honors while leading the team to the semifinal round of the 1965 Indiana State High School Tournament.
He was a three-year standout forward at Drake from 1966-69, guiding the Bulldogs to the 1969 NCAA Final Four where the team finished third.
Pulliam will have a plaque on permanent display at the Indiana Basketball Hall of Fame located in New Castle, Ind.
Current NBA coaches Gregg Popovich of the San Antonio Spurs (Merrillville, Ind.) and Scott Skiles of the Milwaukee Bucks (and 1982 state champion Plymouth) also will be inducted.
Popovich, who played college basketball at the Air Force Academy, is one of five men who have coached four or more NBA championship teams.
Skiles, an All-American and Big Ten Player of the Year for Michigan State, has a spot in Indiana high school lore for his long game-tying basket at the end of regulation time and 39-point contribution to Plymouth's 75-74 double-overtime upset of Gary Roosevelt in the 1982 state championship game.
2009 INDUCTION CLASS ANNOUNCED BY

THE INDIANA BASKETBALL HALL OF FAME
Denny Bishop, South Bend Central, 1958

Steve Bouchie, Washington, 1979

Phil Cox, Connersville, 1972

Fred Fleetwood, Southport, 1962

Dick Hickox, Fort Wayne North, 1956

Bill James, Scottsburg, 1969

*Charles Jenkins, Providence, 1957

Ted Kitchel, Cass, 1978

Gregg Popovich, Merrillville, 1966

Dolph Pulliam, Gary Roosevelt, 1965

Wayne Radford, Indianapolis Arlington, 1974

Bob Sakel, Jasper, 1945

Scott Skiles, Plymouth, 1982

Vaughn Wedeking, Evansville Harrison, 1967

Steve Alford, New Castle, 1983
*Indianapolis Washington Team 1969