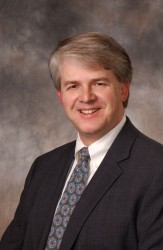 Michael J. Renner
MEDIA CONTACT: Lisa Lacher, 515-202-1773, lisa.lacher@drake.edu
Michael J. Renner, who previously served as provost and vice president for academic affairs at Mansfield University of Pennsylvania, will become Drake University's next provost on June 1, 2009.
The provost is Drake's chief academic officer. Dr. Renner will succeed Ronald Troyer, who is retiring in June after a 28-year career at Drake. Dr. Troyer joined Drake in 1980 as professor of sociology. He later served six years as dean of the College of Arts and Sciences and is currently in his ninth year as provost.
"Michael Renner has the academic leadership experience that Drake needs to move forward to achieve even greater successes for our students, faculty and the entire community," said Drake Board of Trustees Chair James Hubbell. "We are confident that Dr. Renner will help us take the University to a new level of prominence and prestige."
"Thanks to Ron Troyer's wise academic leadership and decades of commitment to Drake, along with the passion and commitment of Drake's faculty, staff and trustees, Drake University is now recognized as one of the top master's universities in the United States," said Drake President David Maxwell.
"We have aspirations for even greater things, and it is clear that Michael Renner has the experience, the intellectual energy, and the vision to play an integral role in fulfilling those aspirations. I am delighted that he has agreed to join Drake's leadership team, and look forward to welcoming Michael, Catherine and their children to the Drake family."
Dr. Renner served as Mansfield's provost and vice president for academic affairs for three years, where he is also professor of psychology. He also was the founding dean of the College of Arts and Sciences at Nazareth College in Rochester, N.Y.
"Drake University is already known for excellence," said Dr. Renner, "and is well along the path to being truly extraordinary. Drake's vision to integrate the liberal arts and sciences with professional preparation, combining a rigorous academic curriculum with the co-curriculum and other student activities, provides a wonderful foundation for innovation.
"The research and creative activities of Drake's faculty and staff provide an exceptional environment for collaborative learning, and will give our students exactly the experience they need to succeed in a complex and rapidly changing global world. I would like to thank President Maxwell for the opportunity to work with such an accomplished and dedicated group of faculty and staff as we make this vision come alive."
Dr. Renner previously spent 13 years at West Chester University of Pennsylvania, where he was professor of psychology and held numerous administrative positions. He served as interim associate vice president for sponsored research and faculty development, interim associate dean, institutional research fellow and laboratory director.
In addition, Dr. Renner has taught at Memphis State University, the University of Wisconsin at Oshkosh, the University of Wyoming, California State University and the University of California, Berkeley.
An expert in animal behavior and neuroscience, Dr. Renner has published more than 70 scientific journal articles, chapters, books and abstracts and presented approximately 60 papers and symposia.
He also is a member of the American Conference of Academic Deans, Psychonomic Society, Animal Behavior Society and the International Society for Comparative Psychology, among others.
Dr. Renner received a bachelor's degree in psychology from Boise State University, a master's degree in developmental psychology from the University of Oklahoma and a Ph.D. in biological psychology from the University of California, Berkeley.
Dr. Renner's wife, Dr. Catherine Hackett Renner, is a cognitive psychologist and statistician. They have two children: Moriah and Jack.