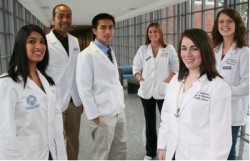 MEDIA CONTACT: Lisa Lacher, 515-271-3119,
lisa.lacher@drake.edu
In its second year, Drake University's health sciences major is proving to be more popular with 63 students enrolled in the program this year compared to 47 from the previous year.
"Health care fields continue to be in demand and provide a sound future for graduates of the health sciences program," said Raylene Rospond, dean of the College of Pharmacy and Health Sciences, "Confidence in this career path is part of the major's continued growth."
The 2008 class profile includes 42 females and 21 males from states including Arizona, California, Colorado, Iowa, Illinois, Kansas, Minnesota, Missouri, Nebraska, North Dakota and Wisconsin. Eighteen of these students are athletes.
Students pursing the health sciences major are interested in occupations as physical therapists, physician's assistants, physicians and researchers or careers in health care insurance or administration among others.
In addition to increased enrollment, students also have founded a chapter of the Health Sciences Student Organization. Megan Browning, president of the organization, said their plans for the year include events featuring guest speakers and volunteer opportunities with Blank Children's Hospital and ChildServe in Johnston.
"Because the health sciences major spans so many diverse professional ambitions, this will be a great way for students to stumble upon a career path they may not have previously considered," said Browning, a sophomore health services management major of Johnston, Iowa. "We also are in the process of planning social events and fundraisers for future professional development programs."
Major offers three academic tracks, many career options
The health sciences major consists of three academic tracks — clinical and applied sciences, pharmaceutical sciences and health services management. Students begin their first semester with required classes in health sciences, biology and chemistry, as well as a First Year Seminar class.
In the early stages of the program, students get involved in the health sciences field through job shadowing, career mentoring and project development opportunities. All students also participate in an intense capstone in areas related to their career interests.
The track options are as follows:
The clinical and applied sciences track prepares students for employment in the primary health care professions as well as allied health fields such as occupational therapy, physical therapy, physician assistant, audiology, optometry and clinical and laboratory sciences.
Similarly, the pharmaceutical sciences track focuses on laboratory-based courses and research experiences that prepare students for graduate school and careers in research, drug development and professions including medicine, dentistry and veterinary medicine.
The health services management track offers career options right out of college in business, marketing, pharmacy and health care administration. This track also prepares students for graduate work in health insurance, public health, regulatory affairs or marketing and sales in the pharmaceutical and medical industries.
"Regardless of the track students choose, they receive an extensive foundation in health care issues combined with a unique two-semester capstone experience in the community during their senior year," said Rospond. "This combination provides them with a broad-based perspective unique for undergraduates."