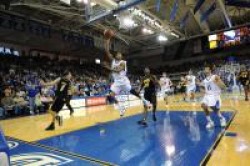 Sophomore guard Josh Parker came off the bench to score 14 points for Drake.
Junior guard Josh Young (Lawton, Okla.) enjoyed his third consecutive 20-plus scoring game, but Drake's defense stole the show en route to a 60-43 victory past Iowa before a sellout crowd of 7,152 at the Drake Knapp Center Saturday.
The Bulldogs continued their dominance of instate schools by winning their 10th straight game against a Big Four school (Iowa, Iowa State, Northern Iowa). Drake moved to 9-3 overall.
The Bulldogs also have beaten Northern Iowa four straight times and Iowa State three times in a row.
It marked the first time in the 63-game series history that Drake has won three straight games against Iowa.
Iowa's 43 points were its fewest scored against Drake since a 35-22 victory Feb. 3, 1936.
Drake held Iowa to a season low in scoring, field goal shooting (.313) as well as three-point field goal shooting (.276.)
Iowa had entered the game leading the Big Ten Conference in field goal percentage (.489), while ranking 10th nationally in three-point field goal percentage (.421).
"It was nice to be in an energetic Knapp Center," said first-year Drake coach Mark Phelps. "Our players gave their most consistent effort of the season. We didn't play well on the offense, but our defense played great today.
"We came into this week knowing we needed to improve in a lot of fronts and our team embraced it."
Iowa, which had a three-game winning streak snapped, fell to 9-3.
"I was impressed with Drake after scouting them and today," said Iowa coach Todd Lickliter. "They controlled the tempo and were the aggressor. They match up zone wise and do great covering and don't foul."
Young scored 10 points keying a 22-3 run by Drake that turned a 7-7 tie into a 29-10 advantage.
Young had seven points and sophomore guard Josh Parker (Harvey, Ill.) came off the bench to add five points during the final 4 minutes 18 seconds of the surge in which Drake scored 16 unanswered points.
The Hawkeyes could never pull closer than nine points.
Iowa went 6 minutes 4 seconds without scoring (10:06 to 4:02), missing seven shots during a drought in the first half before Anthony Tucker hit a jumper.
Drake outrebounded Iowa, 41-24 owning a 12-4 advantage on the offensive boards which resulted in 13 second-chance points.
"They're (Drake) a great rebounding team and ran down a lot of balls," added Lickliter. "I give all the credit to Drake."
Young finished with a game-high 24 points, recording his 13th career 20-plus scoring game, including fourth of season. He is averaging 24.0 points in the last three games, including 26 against Georgia Southern and 22 against Stephen F. Austin.
Young set career highs with 14 free throws made and 15 attempted. He also collected five rebounds for the third time in the last four games.
Parker tallied 14 points after scoring just two points in seven minutes at Iowa last year. It marked Parker's seventh double-figure scoring game of season.
Senior forward Brent Heemskerk (Grand Rapids, Mich.) had three blocked shots to move into a tie for No. 6 on Drake career blocked shot chart at 58 with David Bancroft (2001-05).
Senior forward Jonathan Cox (Barrington, Ill.) grabbed a game-high eight rebounds for Drake.