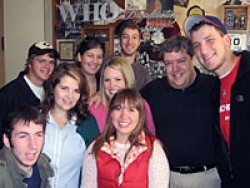 Drake journalism students interact with Van Harden (second to last on the right) at the WHO studio.
By Emilee Richardson
Drake's School of Journalism and Mass Communication recently announced WHO Radio personality Van Harden, a 1973 Drake graduate, as the school's Distinguished Alumnus of the Year at the All-Journalism reunion.
"Van has been one of Des Moines' most listened to and best loved broadcasters for more than 25 years," said Kathleen Richardson, director of SJMC, who presented the award. "He represents the best of the Drake journalism school, its students and alumni."
Harden joined WHO Radio in 1986 and became a co-host of the station's morning show with Bonnie Lucas. The program quickly became the most-listened-to radio show in Iowa.
Under his leadership as program director, WHO Radio has won several national Marconi awards from the National Association of Broadcasters. Two of those awards were presented to Harden as medium market Personality of the Year in 1992 and 1997.
"Throughout his career, Van has been an enthusiastic friend of Drake University and the SJMC," Richardson said. "He generously gives of his time and talents to meet with our broadcast faculty and students, to give them tours of the station and to talk to them about the industry."
Prior to joining WHO Radio, Harden worked for 10 years at KRNT Radio in Des Moines. He served two years as development and public relations director for the American Lung Association of Iowa and worked at KWEN in Tulsa, Okla. His first radio job was in 1971with KDLS FM in Perry, Iowa, while he was still a radio-TV major at Drake. In addition, Harden also hosted a daily television program on WHO-TV for four years in the 1990s.