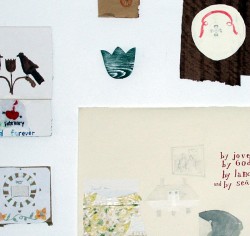 "By Jove" by Benjamin Gardner
MEDIA CONTACT: Tory Olson, 515-271-1834, tory.olson@drake.edu
Five Drake University faculty members will display their work in a joint exhibition that beginn Friday, Jan. 23. The exhibit will be held in the Anderson Gallery in the Harmon Fine Arts Center, 25th Street and Carpenter Avenue.
The show will run through Friday, Feb. 20. The exhibit and gallery events are free and open to the public.
The Drake Department of Art and Design Faculty Exhibition will feature a variety of works, including mixed media installation, watercolor, collage, painting and graphic design.
The exhibit will highlight work by Assistant Professor Benjamin Gardner, who joined Drake in 2005 and is the newest addition to the Art and Design Department.
Other participating artists are:

Assistant Professor Angela Battle
Assistant Professor Sarah McCoy
Associate Professor Ignatius Widiapradja
Lecturer Connie Wilson
The Anderson Gallery is open from noon to 4 p.m. Tuesday through Sunday.
For more information about the exhibit, contact Heather Skeens, director of Anderson Gallery, at 515-271-1994 or heather.skeens@drake.edu.