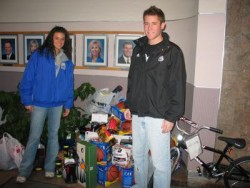 Emily Madden and Zach Bales-Henry showcase items donated for Toys for Tots.
MEDIA CONTACT: Tory Olson, 515-271-1834, tory.olson@drake.edu
In the spirit of the holidays the Drake Student-Athlete Advisory Committee (SAAC) recently completed a toy drive as part of the Toys for Tots campaign in the greater Des Moines area.
The SAAC asked each Drake student-athlete to donate $1 toward this worthwhile cause with toys being purchased from the monies raised.



When all the money had been collected SAAC challenged the Bulldog athletic staff to match the funds and in all, the group raised nearly $400.
The members purchased sports-related items, including 11 footballs, 12 basketballs, three tennis rackets, nine tennis balls, one softball glove with ball, one baseball glove with ball, seven volleyballs, six soccer balls, and one youth-size bicycle, that junior volleyball player Emily Madden and senior track runner Zach Bales-Henry delivered to the KCCI TV-8 studios earlier this week. Madden and Bales-Henry also dropped off toy donations from the community, which had been collected at Drake basketball games.
"It was fun and exciting dropping off all the toys and to see how much we actually were able to help out with the Toys for Tots program," Madden commented.
"It was fun giving back knowing the impact of our efforts will allow kids who might not normally get gifts to have the experience of having something this holiday season," Bales-Henry.