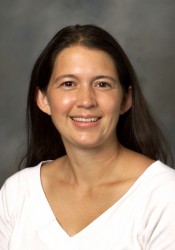 Renee Cramer
MEDIA CONTACT: Tory Olson, 515-271-1834, tory.olson@drake.edu
By Amy Benes
Drake students and faculty recently gathered to talk about the changes in the perception of pregnancy and the current obsession with the celebrity baby bump in American society. The discussion was led by Renee Cramer, professor of law, politics and society.
Cramer highlighted two themes of the discussion: the perception of pregnancy and the perception of pregnant women.
"The pregnant body is losing the image as being repulsive," Cramer said. "Women no longer have to hide pregnancy."
From maternity clothes to massage oil, pregnancy is now a period in a woman's life in which she can indulge in vanity, Cramer added.
She also argued that society now views pregnant women as sexual beings that can be sexy, sporty and professional.
While pregnancy has evolved from its asexual image, Cramer pointed out that the glorification of pregnancy gave rise to media and societal obsession and surveillance of pregnant women, particularly celebrities.
"Suddenly, what I do while pregnant is not about me or the child, but about the needs and norms of society," Cramer said. "People feel the right to interfere with the pregnant body when they see the bump."
The baby bump has become an important accessory for celebrities, Cramer added.
In her presentation, she identified four main categories of pregnant celebrities:

"Bad girl" — a bad mother whose pregnancy is largely disproved of by the general public
"Bad girl made good" — mothers with past periods of reckless behavior made up for it by a society-approved pregnancy
"Sexy mommas" — women who usually have an exotic appearance and are described by the media as being sexy despite they pregnant state
"Good girls" — women who are described as glowing, gorgeous and natural
Cramer described Britney Spears as a "bad girl," Angelina Jolie as a "bad girl made good," Jennifer Lopez and Halle Berry as "sexy mommas" and Julia Roberts and Jennifer Garner as "good girls."
To conclude her presentation, Cramer asked for questions and comments from the audience. Topics discussed ranged from planned and unplanned pregnancies to man-moms like Clay Aiken and Ricky Martin.
The presentation was part of a series sponsored by Drake's Women's Studies Program called "Contesting Parenthood." The program explores the roles, culture and challenges of motherhood in today's world.