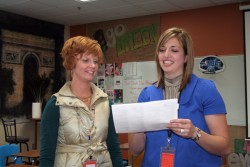 Lindsay Whorton (right), who is student teaching at Valley High School, collaborates with English teacher Kristine Milburn (left).
Drake University senior Lindsay Whorton, a former Drake standout
basketball player with a perfect academic record, is one of 32
Americans selected as a Rhodes Scholar for 2009. She is Drake's first
Rhodes Scholar in 82 years.
Whorton, who will graduate in December with majors in English and
secondary education, was a guard who used up her eligibility last
season. In her senior season, she was named first-team academic
all-American, First-Team All-Missouri Valley Conference and one of
Drake's team captains.
A native of Independence, Mo., Whorton receives a two-year
scholarship to study at Oxford University in Oxford, England. She plans
to study social policy and evidence-based social intervention at
Oxford.
"It's definitely an honor and I think it's a great tribute to Drake
as an institution, because my athletics and academics definitely went
hand-in-hand — one without the other, and I would not be in this
position," Whorton said. "So, I'm very grateful for the opportunity I
had to play at Drake and just really kind of overwhelmed by the
experience. I felt I was an underdog going in, so I'm amazed and
honored to have the opportunity to go and study [at Oxford]."
Whorton is student teaching at Valley High School in West Des
Moines this semester. This past summer, she took a youth group from a
West Des Moines church to an impoverished county in South Dakota, where
they performed service work on an Indian reservation.
This year's 32 Rhodes Scholars were picked from 769 applicants
endorsed by 207 colleges and universities nationwide. About 80 scholars
were chosen throughout the world to become the 2009 class.
"We are very proud of Lindsay for this extraordinary achievement,"
said Drake President David Maxwell. "The award acknowledges Lindsay's
intelligence, breadth and depth of knowledge, her commitment to the
common good and her nationally recognized stature as a Division I
athlete. We are delighted for Lindsay and pleased that she will be
representing Drake in the distinguished community of Rhodes Scholars."



Former President
Bill Clinton, Louisiana Gov. Bobby Jindal and former senator and NBA
star Bill Bradley also were Rhodes Scholars.
Whorton is Drake's fourth Rhodes Scholar. Drake's previous Rhodes Scholars were J.W. Woodrow in 1907; Norman
Dunsbee Scott in 1916; and Robert B. Patrick in 1927.
The internationally renowned scholarships were created in 1902 by
the will of Cecil Rhodes, a British philanthropist and African colonial
pioneer.
Rhodes Scholars are selected on the basis of high academic
achievement, integrity of character, a spirit of unselfishness, respect
for others, potential for leadership and physical vigor.