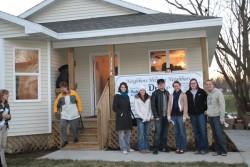 Drake students who helped build the home gathered during Monday's dedication ceremony.
More than 100 Drake University students, faculty and staff recently
helped build a Habitat for Humanity home for a family that took
ownership Monday, Nov. 24.
Six Drake students and John Smith, Drake
vice president for alumni and development, and Dolph Pulliam, director of community outreach and development, represented the University
at a dedication ceremony for Asif Habib Khan and Ziyagul Musa and their
six children at the new home at 1154 14th Place in Des Moines.
The house was completed by Greater Des Moines Habitat for Humanity
in partnership with First Christian Church, First Christian Church
Foundation, Drake, Westminster Presbyterian Church and other community
partners.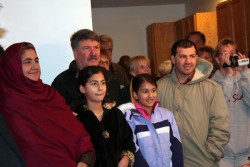 Members of the Khan-Musa family were presented with keys to the new home along with gifts from neighbors during the ceremony.
Asif, Ziyagul and their children arrived in the United States from
Afghanistan after the Taliban bombed their home, during which their
oldest son was injured. The family spent several years in the Soviet
Union where Asif earned his law degree before immigrating to the United
States.
Although their journey to Des Moines has been rough at times, the
family appreciates the opportunities they have in the United States,
particularly educational ones. Three of the Khan children are enrolled
at Des Moines Area Community College and hope to transfer to Drake to
complete their college degrees.
The family previously lived in a crowded rental house with high
rent that exhausted the family's finances. Asif and Ziyagul look
forward to owning a home with room for their children to study and
grow. Now their family will realize their dream of home ownership in a
new five-bedroom home, and have a safe and secure place for their
children to thrive.
Asif works for Mercy hospital and is also enrolled at DMACC. He
would like to master the English language, study law at Drake and
eventually practice law in Iowa. Asif also provides training for
soldiers stationed at Camp Dodge prior to their deployment; speaking
seven languages, he is an important tool for the soldiers.



This house is the 17th of 21 homes to be completed in 2008 through
Greater Des Moines Habitat for Humanity. It marks the eighth
consecutive year of record construction for the local non-profit, and
work is well underway on the first group of homes scheduled for
completion in 2008.