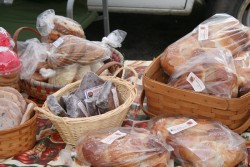 MEDIA CONTACT: Tory Olson, 515-271-1834,
tory.olson@drake.edu
The Drake Neighborhood Farmers' Market will feature a special indoor market with products from fresh produce to services such as flu shots on Saturday, Nov. 15.
The market will be open from 10 a.m. to 1 p.m. at First Christian Church, 25th Street and University Avenue. Parking and admission are free.
Vendors from the summer Drake Farmers' Market will offer Iowa-grown produce, farm-raised poultry and eggs, baked goods, gifts and crafts. Other items for sale will include hot meals, Christmas trees, pies, cookies, candy, jar gifts, holiday supplies and ornaments.
In addition, the market also will offer free blood pressure checks and blood sugar tests by Health Ministry. Plus, Drake pharmacy students under the supervision of Walgreen's pharmacists will give flu shots for $24.99.
The market is a non-profit community event sponsored by First Christian Church, the Drake Neighborhood Association and Drake University. For more information, call Ginny Gieseke at 515-277-6951.