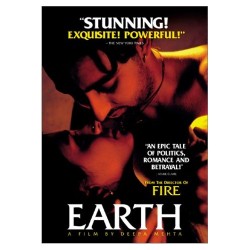 MEDIA CONTACT: Tory Olson, 515-271-1834,
tory.olson@drake.edu
Drake University's International Film Series will conclude with a 2 p.m. screening of "Earth," a Hindi film with English subtitles, on Sunday, Nov. 16.
The series is sponsored by the Center for Global Citizenship. The screening, which is free and open to the public, will be held in room 101 of Meredith Hall, 2805 University Ave.
Associate Provost John Burney will introduce Deepa Mehta's intense and moving film that illustrates the terrifying political cultural atmosphere of 1947 India.
In "Earth," the hateful religious and civil wars that took place in India and Pakistan in 1947 are told through the eyes of a little girl, Lenny. She watches as a trainload full of the bodies of massacred Muslims arrives in their town, gangs march through the streets and Hindu tenements are burned to the ground.