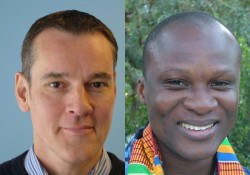 Steve Luckman and Michael Okleme
MEDIA CONTACT: Tory Olson, 515-271-1834, tory.olson@drake.edu
Drake University's Students in Free Enterprise (SIFE) will sponsor the Microfinance Symposium featuring experts from Opportunity Internationalat Drake on Wednesday, Nov. 19. The conference, which is free and open
to the public, will be held from 7-8 p.m. in room 101 of Aliber Hall,
2847 University Ave.
The evening will begin with a presentation featuring a short video
followed by a talk by Opportunity International's Regional Director
Steve Luckman and Resident Staff Member Michael Okleme of Ghana.
Audience members will have the opportunity to participate in a
question-and-answer session.
Opportunity International is a non-profit group that helps the
working poor by providing small loans to help poor entrepreneurs:

start or expand businesses
develop steady income
provide for their families
create jobs for people in their neighborhood
For more information, contact the Entrepreneurial Center at jpec@drake.edu or 515-271-3071.