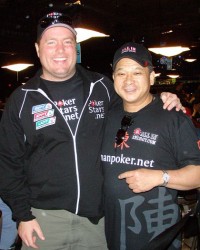 Tim Loecke with Johnny Chan at tournament
DRAKE GRAD TAKES 23RD PLACE IN WORLD SERIES OF POKER
Expecting
to last one day in the World Series of Poker tournament, Tim Loecke,
BN'93, bought a return plane ticket for the next day, but ended up
playing for a week. Loecke took 23rd place and won $257,000 in the Las
Vegas tournament, which featured more than 6,800 players.
"The experience was so over-the-top unbelievable,"
Loecke said. "I cannot even put it into words. I was extremely lucky to
get as far as I did."
Loecke said he only booked a ticket to the event for one
day because he was going up against professional poker stars including
Johnny Chan, Hoyt Corkins and Allen Cunningham.
Loecke
said he learned a lot about strategy betting patterns and the game by
rubbing elbows and playing face-to-face with these stars and other
everyday players. "I had a lot of fun and played with some really great
people," he added.
Entry into the tournament cost $10,000. Loecke won his
way into the WSOP through an online tournament he played on Memorial
Day, when he beat 1,000 people.
Loecke was just a kid when he started to play poker in
the town tavern in Greeley, Iowa. About five years ago, he started
playing again online.
He said he started by putting a small amount of money into an account to play and then loose it.
After
a year, Loecke figured out the game and learned strategies to help him
win, which led him to the tournament on Memorial Day.
"I got really lucky playing in that tournament," he said.
Loecke, from Highland Park, Ill., is the Midwest sales director for Staples and has no plans to give up his day job.
"If I had won the top prize ($9 million), I might have considered quitting, but I love my job and like what I do," he said.
Mary Edrington, assistant professor of marketing, encouraged Loecke to go into sales after graduation.
"Sales
has treated me very well as I enjoy my career tremendously," he said.
"It also has helped me in poker, as a lot of the game is capitalizing
on betting tendencies and reading people, which is very similar to
sales."
Loecke will continue to play online, and he said he
hopes to win another spot in next year's WSOP. "I don't see myself
stopping this."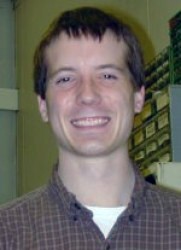 Chris Field
ALUMNUS WINS AWARD FOR RESEARCH FROM INTERNATIONAL CHEMISTRY SOCIETY
By Nicole Freise
Christopher Field, AS'04, CS'04, is one of two graduate students who recently won the 2008 Tomas Hirschfeld Award for Inventiveness from the Federation of Analytical Chemistry and Spectroscopy Societies (FACSS). The award was presented at the federation's annual meeting from Sept. 28-Oct. 2 in Reno, Nev.
"The conference gave me an excellent chance to meet established and famous individuals in the field of analytical chemistry," said Field, who is doing graduate research at the University of Illinois Urbana-Champaign.
FACSS presents the Tomas Hirschfeld Award each year to a graduate student in analytical chemistry who has demonstrated creativity and inventiveness in his or her work.
Field received the award for his work designing and building an instrument capable of levitating liquids the size of raindrops on a cushion of sound. The instrument allows researchers to study biology on a sub-cellular level and chemical reactions in a contact-less environment. Originally developed by NASA for handling liquids in space, the technology was adapted by Field for more terrestrial purposes and experimentation.
Field credits his research success to the opportunities and experiences he had at Drake.
"Being able to work closely with faculty on research helped tremendously," Field said. "The opportunity to do research as an undergraduate student, even my freshman year, allowed me to enter graduate school with a head start."
Field said he hopes to continue in the research field by participating in post-doctoral work with another professor or entering research and development at either a national laboratory or industry.
Read more about Field and other FACSS award winners online.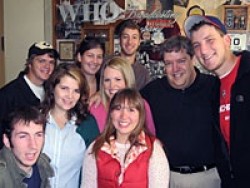 Drake journalism students interact with Van Harden (second to last on the right) at the WHO studio.
WHO Radio personality Van Harden named SJMC Alumnus of
the Year
By Emilee Richardson
Drake's School of Journalism and Mass Communication
announced WHO Radio personality Van Harden, BA'73, as the school's
Distinguished Alumnus of the Year at the All-Journalism reunion Oct. 25.
"Van has been one of Des Moines' most listened to and
best loved broadcasters for more than 25 years," said Kathleen Richardson,
director of SJMC, who presented the award. "He represents the best of the
Drake journalism school, its students and alumni."
Harden joined WHO Radio in 1986 and became a co-host of the
station's morning show with Bonnie Lucas. The program quickly became the
most-listened-to radio show in Iowa.
Under his leadership as program director, WHO Radio has won
several national Marconi awards from the National Association of Broadcasters.
Two of those awards were presented to Harden as medium market Personality of
the Year in 1992 and 1997.
"Throughout his career, Van has been an enthusiastic
friend of Drake University and the SJMC," Richardson said. "He
generously gives of his time and talents to meet with our broadcast faculty and
students, to give them tours of the station and to talk to them about the
industry."
Prior to joining WHO Radio, Harden worked for 10 years at
KRNT Radio in Des Moines. He served two years as development and public
relations director for the American Lung Association of Iowa and worked at KWEN
in Tulsa, Okla. His first radio job was in 1971 with KDLS FM in Perry, Iowa,
while he was still a radio-TV major at Drake. In addition, Harden also hosted a
daily television program on WHO-TV for four years in the 1990s.
PAINTING BY ALUMNA SELECTED FOR NATIONAL TRAVELING ART EXHIBIT
By Emilee Richardson
A painting by Drake alumna Mary Alice (Richter) Pazdan, FA'72, recently was selected to be included in the traveling exhibit "Oncology on Canvas: Expressions of a Cancer Journey."
Pazdan created the piece to illustrate her fight to survive rare blood cancer and chemotherapy. She has been undergoing treatment since 2001 when she was diagnosed with myelodysplastic syndrome, a prelukemic cancer.
Her painting, combining watercolor, pencil and paint, was selected for the mixed media division. Of the 600 entries from the United States and Puerto Rico, Pazdan's was one of only 200 that were chosen to be part of the traveling exhibit.
"It is such an honor just to be selected," Pazdan said. "I'm glad I can help educate other people about the rare disease."
Pazdan majored in printmaking at Drake and graduated in three and a half years. During that time, she spent a semester in Florence, Italy studying art and culture. She now lives in Wilmette, Ill., with her husband and paints as a hobby.
"The Oncology on Canvas: Expressions of a Cancer Journey" art competition was launched in 2004 and is open to anyone affected by cancer.
Entries are received in six categories: oil, watercolor, acrylic, photography, pastel and mixed media. An independent panel of judges, comprised of the art director, cancer survivors, leading oncologists, journalists and representatives from patient advocacy groups select the prizewinners in the competition.
Each year at the conclusion of the competition, selected entries are displayed in a nationwide exhibition, designed to inspire others whose lives have been touched by cancer.
The traveling exhibit is sponsored by Eli Lilly, a pharmaceutical company founded by its namesake in 1876, in partnership with the National Coalition for Cancer Survivorship. Lilly wanted to make a contribution to oncology that went beyond drug discovery and development to treating the whole patient.


More information about Eli Lilly and the Oncology on Canvas exhibit is available online.
SCHOOL OF EDUCATION SEEKS NOMINATIONS FOR 2009 ALUMNI AWARDS
Do you know a School of Education alum who has made a tremendous impact? Nominate him or her for one of the 2009 SOE Alumni Awards! The awards will be presented during a dinner Tuesday, Feb. 24, 2009. 


Nominees may be teachers, administrators, counselors, public servants and/or friends of the SOE. They should be people who have displayed extraordinary service to their students, clients, the SOE and/or have been outstanding advocates for education. 


Nominations can be made by anyone and are due in writing or e-mail by Friday, Nov. 21, 2008. Letters of nomination should explain why the nominee deserves this honor, indicate the award category (teacher, administrator, counselor or other) and contain contact information for the nominator. 


Nominations should be directed to: 


Tracy Bainter, marketing coordinator 


Drake University School of Education 


3206 University Avenue 


Des Moines, Iowa 50311 


For more information, contact 515-271-2183 or tracy.bainter@drake.edu.
NOMINATE DRAKE GRADS FOR NATIONAL ALUMNI AWARDS
The Drake National Alumni Association Board is seeking
nominations for its annual Drake National Alumni Awards. The nominees who are
selected to receive one of five awards will be recognized at the annual awards
dinner Saturday, May 16, 2009, in Drake's Olmsted Center. The event is
sponsored by the National Alumni Board.
The awards are:
• The Distinguished Service Award, the top honor bestowed upon alumni of Drake
University, recognizes outstanding achievement by an individual in a career or
profession and exemplary service to the community and University.
• The Young Alumni Achievement Award honors alumni, age 40 and younger, for outstanding
achievement in a career or profession and reflects the pride of Drake
University in these achievements.
• The Young Alumni Loyalty Award is presented to alumni age 40 and younger,
recognizing dedicated service to Drake University and promotes service by all
alumni to the University.
• The Alumni Achievement Award honors individuals for outstanding achievement in a career or
profession and reflects the pride of Drake University in those
achievements.
• The Alumni Loyalty Award is presented to Drake alumni to recognize dedicated service to Drake
and promote service by all alumni to the University.
Nominations are due December 1, 2008, and should include
contact information for the nominee along with career information, service to
the community and profession, service to Drake University and the specific
award for which the person is being nominated. Contact information for the
person making the nomination is required. Résumés, newspaper articles, letters
of recommendation and other materials about the nominee also are encouraged.
Download a nomination form online by clicking on "Alumni Awards" on
the left side of the homepage.
Questions? Contact the alumni office at 515-271-2500, or
toll-free at 800-44-DRAKE, x2500