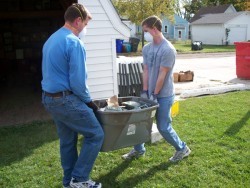 Tom Primmer and Quint Hall carry a heavy tub sloshing with floodwater and damaged books as part of the salvage effort.
STUDENTS HELP HISTORIC MOSQUE RECOVER FROM FLOOD DAMAGE
Three
students from St. Catherine of Siena Catholic Student Center at Drake
University devoted their recent fall break to helping with
flood-recovery efforts at the Mother Mosque of America in Cedar Rapids,
Iowa.
Tom Primmer, director of campus ministry at St.
Catherine of Siena, joined the students in working Oct. 18-20 at the
mosque, which dates back to the 1920s and is the oldest mosque in
America.
Primmer and the students painted, installed insulation
and sorted through dozens of plastic tubs containing waterlogged books
and historic records that were damaged during the summer floods. Many
of these materials had been in the basement of the mosque when the
flooding occurred. Almost everything in the basement — where
floodwaters rose to within six inches of the first floor — was a total
loss with the exception of a photograph of the founders of the mosque.
The Drake students — Nate Altman, Quint Hall and
Shifikovie "Kovie" Biakolo — said they found their alternative fall
break to be a rewarding and enlightening experience.
"I live six hours away and knew I wouldn't make it home
for two days of fall break," said Hall, a first-year international
business major from Salina, Kan. "I didn't want to sit around an empty
campus, so this seemed like a good opportunity to join a small group of
people helping other people. I think we all gained a much better
understanding of Islamic teaching and theology."
Biakolo, a sophomore originally from Ughelli, Nigeria,
described the project as a fruitful interfaith exchange. "It was a way
to show people that we are interested in the welfare of all peoples as
a Christian church and group," she said.
Also," she added, "during the school year, it is easy to
get wrapped up in yourself and your problems. Doing something for
someone else is the best way to keep things in perspective."
"This was an excellent opportunity for us to learn about
another religious tradition while bringing the Christian faith
tradition to life in real and tangible ways," said Primmer of St.
Catherine's of Siena Catholic Student Center.
The students' efforts received media coverage in The
Cedar Rapids Gazette in an article headlined "Notre Dame, Drake
students travel to help flood clean-up."
To thank the Drake students for their help, the Islamic
Center of Cedar Rapids provided a potluck dinner for the group
featuring authentic Middle Eastern food. Members of the Mother Mosque
community expressed their appreciation by serving a potluck lunch to
the group.
"This was a great opportunity to see faith in action,"
said Imam Taha Tawil of Mother Mosque. "I want to thank Drake
University students for taking their time to help us recover from the
floods, knowing that the Mother Mosque is an important piece of
American history."


Grow Bulldogs students visit President Maxwell in President's box at football game
Daniel Morehouse
LIBRARY EXHIBIT REVEALS MOREHOUSE'S ASTRONOMY LEGACY STILL SHINING AT DRAKE
One-hundred years after renowned astronomer Daniel Morehouse discovered
the comet that bears his name, Drake is celebrating a century of
astronomy at the University through an historical exhibit in Cowles
Library. View the digital exhibit online.
The exhibit, "Comet Morehouse: 100 Years of Astronomy at Drake University," features the history behind:
• Morehouse, who was Drake president from 1922-1941,
• Morehouse's astronomy career and his discovery of the Morehouse Comet in 1908
• Astronomy at the University, dating back to 1888-89
• The Drake Municipal Observatory
• Student research projects at Drake
"It is important to know the history behind Dr. Morehouse and his
legacy, but also that we are still continuing that legacy here at Drake
today," said Sean Stone, exhibit designer and pharmacy science
librarian. "Our astronomy program is really vital and we have a lot of
Drake students doing astronomy research."
Morehouse passed the torch and years later Charlie Nelson, associate
professor of physics and astronomy, is leading Drake's astronomy
department.
As part of the exhibit and the "Live at Cowles" series, Nelson
presented "Daniel Morehouse and the Comet's Tale," which also focused
on the history of Morehouse and astronomy at Drake, and highlighted
research by Drake students.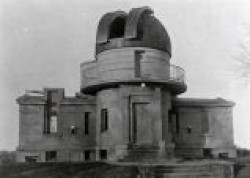 Drake Municipal Observatory
Nelson said the Drake Municipal Observatory, run by Drake and the city
of Des Moines, is one reason why so many students and people have been
able to learn and get involved in astronomy. The University provides
public presentations and opportunities for stargazing on Friday nights
in the spring, summer and fall.
I doubt it can be shown that any other city has planned and created a
public observatory in a public park for the primary purpose of giving
to its citizens an opportunity to know the beauty, dignity and high
moral value of astronomy, Morehouse wrote in his 1922 article published
in the Journal of the Royal Astronomical Society of Canada.
The observatory is one of the places where the image of the 1918
eclipse was captured that helped prove Albert Einstein's Theory of
Relativity. Morehouse and his wife chose the observatory as their final
resting place for their ashes.
The Morehouse Comet Exhibit will be open through December in the James Collier Heritage Room of Cowles Library.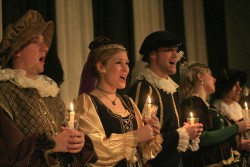 Tickets on sale for 19th annual Drake Madrigal Dinners
Tickets are available for Drake's Christmas Madrigal Dinners at 7 p.m. Saturday, Dec. 6, and Sunday, Dec. 7, in Olmsted Center.
The dinner, presented by the music department, features strolling minstrels, jugglers and dancers. The Drake Chamber Choir, directed by Aimee Beckmann-Collier, will perform the after-dinner concert.
The menu includes Cornish game hen, garlic mashed potatoes, spinach salad, baked apple, scones, figgy pudding, wassail and wine. Vegetarian meals are available.
Tickets are $50 per person or $400 for a table of eight and all seats are reserved. For reservations, call the Drake Fine Arts Box Office at 515-271-3841 between noon and 6 p.m. weekdays.