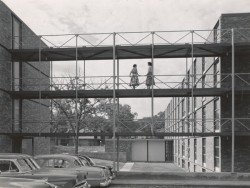 Bridges link two of the Saarinen-designed residence halls in the Quad Complex.
Drake University has the distinguished honor of having a campus plan and nine buildings designed by two of the greatest architects of the 20th century. This fall, a comprehensive exhibition sheds light on how those designs by Eliel Saarinen and his son, Eero, reflected Drake's determination to be a modern university that would help propel America into post-World War II leadership.
"Building a Modern Campus: Eliel and Eero Saarinen at Drake University" opens with a reception from 5 to 7 p.m. Friday, Nov. 7, at the Anderson Gallery in the Harmon Fine Arts Center, 25th Street and Carpenter Avenue. Curator Maura Lyons and students involved in the exhibition will give a gallery talk at 6 p.m.
Drake art and design students are contributing to the exhibition in many ways. Those enrolled in Lyons' curatorship course are helping to design the layout of the exhibition, writing descriptions for the show, producing an online tour and planning to conduct exhibition and campus tours. The online tour at http://www.buildingamoderncampus.com will open with the exhibition on Nov. 7.
Students in a graphic design class taught by John Fender are designing the exhibition catalogue and promotional materials. Plus, students in Robert Craig's 3-D design course are recreating a typical dorm room from the 1950s, complete with original Drake furniture from the period.
After World War II, Drake made a commitment to modern architecture and art as its campus expanded, acquiring nine Saarinen-designed buildings as well as a building by Ludwig Mies van der Rohe and a large mural by painter Stuart Davis, said Lyons, Drake associate professor of art history.
[ Read the entire article online… ]