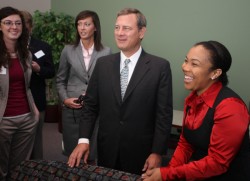 Drake University law students enjoyed the opportunity to interact with and question Chief Justice of the United States John G. Roberts Jr. during his day-long campus visit on Thursday, Oct. 2.
View a photo gallery of his visit online.
At a breakfast with approximately 70 student leaders at Drake Law School, Roberts answered questions on topics ranging from the best way to prepare for an appellate argument to what he looks for in a resume from a prospective law clerk.
Click here to view the full news release.