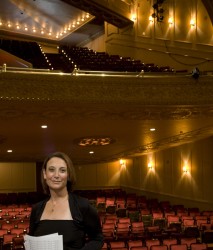 Cathy Lesser Mansfield during a rehearsal at Hoyt Sherman Place.
MEDIA CONTACT: Lisa Lacher, 515-271-3119, lisa.lacher@drake.edu
Holocaust scholar and Drake University Professor of Law Cathy Lesser Mansfield will present "The Sparks Fly Upward: Learning about the Holocaust, Defying Genocide" on Monday, Oct. 13, as part of Drake's lecture series on the United States and the World.
The lecture, which is free and open to the public, will start at 7 p.m. in Bulldog Theater in Olmsted Center, 2875 University Ave.
In addition to teaching law at Drake Law School, Mansfield is a composer, librettist and Holocaust scholar. She recently completed an opera titled, "The Sparks Fly Upward," which follows three German families through the Holocaust. The world premiere of the opera will take place on Saturday, Nov. 8, at Hoyt Sherman Place in Des Moines.
In her lecture, Mansfield will examine how seemingly civilized societies can collapse into genocide and the difference one individual can make in the survival of another. The talk will feature historical photographs of Berlin and Germany from the years before and during the Holocaust, a short film about a rescuer from the Holocaust and musical selections from her opera.
The "United States and the World" lecture series is sponsored by Drake's Center for Global Citizenship in cooperation with the National Security Network.
For more information about the event, call 515-271-2117.



The schedule for the rest of the series is available online.