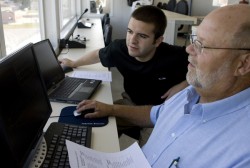 Andy Hoverson works with Ted Wacht, assistant to the activities director, on computers that control the school's new videoboard.
Alumnus works with business interns to improve high school athletic department
Drake alumnus William R. Watson, GR'01, has turned to summer college interns to help enhance Urbandale High School's athletic department and its surrounding community.
"In the three years of working with college students, I have found their work to be professional, advanced and they have offered new and fresh perspectives," said Watson, director of activities for Urbandale High School. "All of the students we have hired have had a love for athletics but also a unique skill set and each brought a certain perspective to our office."
This summer, Watson hired two Drake interns — one business student and one journalism student — to help with event and game management and marketing.
Andy Hoverson, a senior marketing major with a minor in economics from Maplewood, Minn., worked on creating a media guide for the high school athletic program. The media guide, which includes individual records, all-state performers and information on sports programs, was sent to media outlets.
"Since I am interested in a sports career, I thought that this internship was a great starting point," Hoverson said. "It helped me realize the ins and outs of an athletic office and what happens on a daily basis. I learned a lot about the budgeting aspects of handling multiple sports teams and I also was given freedom to be creative."
Hoverson said putting together the first Urbandale High School media guide was the highlight of his internship. He also helped with the school's Web site transition, event and game management and the department's move to a new financial management system.
Abbie Hamilton, a senior radio/TV production major of Galesburg, Ill., worked on creative development for the debut of the school's new Daktronics video board in the new football stadium.
Hamilton helped coordinate advertising for the video board and create promotional materials highlighting students and sports at Urbandale High School. She also developed lineup cards for each player and situational graphics for the video board.
"I have had experience with other live sports production and equipment similar to that of Urbandale, so I was a resource in making all the preparations for the debut of the new board," Hamilton said.
View the students' work online.
In addition, Drake graduate Ryan Anctil, BN'08, worked with Watson during the previous summer along with other interns from Iowa State University. Anctil developed a football program and handled promotion and advertising sales.
"We were able to build on the intern's skill sets to help advance not only their knowledge and experiences, but also to enhance the lives of our students and community through their work in our athletic department," Watson said.
"These experiences have proven to be a true learning experience for the college students," Watson added. "We are thankful for the lasting relationships we have built with Drake and hope to attract future interns."
Watson is entering his sixth year at Urbandale High School and his seventh year in the field of education. He is a 1993 graduate of the United States Military Academy at West Point. He earned a Master of Arts in Teaching from Drake and is working on his Ph.D. in educational leadership at Iowa State University.