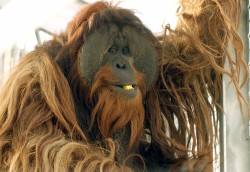 Azy, an adult male, has been collaborating with Robert Shumaker for about 25 years.
Drake professors extend education off campus to Great Ape Trust
Nearly 40 Drake students were captivated while Azy the orangutan unwrapped a piece of bubble gum with his lips at a recent visit to Great Ape Trust of Iowa.
"This field trip was a truly amazing experience," said Mathew Kalapurayil, a first-year pharmacy major from Lincolnwood, Ill. "My fellow classmates and I were thoroughly impressed at the level of comprehension the apes demonstrated."
Students in two Drake First-Year Seminar courses toured the trust facilities and observed the apes while Robert W. Shumaker, director of orangutan research at the trust, taught students everything from what orangutans like to eat to how bonobos comprehend symbols.
As part of their first-year course, students will connect what they learned at the trust about apes to their coursework and class discussions.
For example, students in the Educating You course already have revised writing assignments and have begun to rethink their views about the value of interdisciplinary learning and liberal arts education in the 21st Century.
"After discussing the value of higher education and methods of teaching, it was refreshing to see a practical application of learning in real life aside from the classroom," Kalapurayil said. "Through this trip, I discovered that the mind has infinite capabilities; however, without the inclination or proper motivation to learn, there is not much hope for success. It is motivation that drives us to learn. The things we vividly remember in life are things that have a special meaning to us."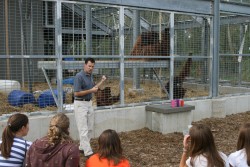 Robert Shumaker talks to Drake students about the apes and their comprehension skills and habits.
Charlene Skidmore, assistant director of the First-Year Seminar
program, said they also wanted to look to Great Ape Trust to better
understand how its leaders created a learning environment where life
and research thrives.
Skidmore is co- teaching the course with Margie
Davidson, director of student records and academic information, and
Joanne Brown, associate professor emerita of English.
"My hope is for students to understand how human brains
and great apes' brains, too, learn and adapt though language, gesture
and emotions, to new knowledge and environments," Skidmore said.
Students in the All the Rivers Run to the Sea…but the
Sea is never full course, taught by James Laurenzo, lecturer of
philosophy and religion, are taking a different perspective focused on
creation theology.
"I want my students to look to what they are here to
care for and to realize they are not the center of the universe,"
Laurenzo said. "I want them to understand what it takes to run this
tiny little spot of the earth and how much it means for the resident
apes and surrounding community."
These two groups of student aren't the only Drake
students who will benefit from what Great Ape Trust has to offer. In
October, two more classes will visit the trust.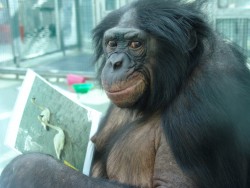 Panbanisha, an adult bonobo, holds a picture of swans during a trial session.
Students dive into research with scientists
Three
Drake seniors are collaborating with Great Ape Trust scientists on
projects involving researching and recording ape vocalizations and
locomotion activity.
Beginning last summer, Jacqueline Mobley, Gregory Farris
and Anna Rice started working on research projects and will present
their findings next spring.
Mobley of Davenport, Iowa, and Farris of Denver, are
teaming with Great Ape Trust scientist Serge Wich to research bonobo
and orangutan vocalizations.
In her project, Mobley is focused on recording and
analyzing bonobo calls made by the trust's population and subsequently
compares those to published results on bonobo calls from other captive
and wild populations.
"We're also looking at whether or not apes can learn new
vocalizations from apes from other populations and if these are the
basics that lead to human speech," Wich said.
Similarly, Farris is researching how orangutan
vocalizations made by apes at the trust are different from those heard
in the wild and how apes as individuals have a lot of opportunity to
learn from each other.
Farris and Wich have discovered that one of the trust's
female orangutans creates a whistling sound to get attention that is
unique to her. They will research whether or not other orangutans can
learn that sound from her.
Rice of Mahtomedi, Minn., is working with Karyl Swartz,
Great Ape Trust scientist. Her project is a study with children that is
following up the work Swartz is doing with orangutans on list learning
and memory. The research is designed to determine whether or not human
children develop the same skills as orangutans.
They are working with a 2-year-old girl and a 6-year-old
boy, who are presented a list of items (photographs) one at a time on a
video screen. The items appear randomly in determined locations on the
screen, along with other items that were not included in the first list
of items. Participants are asked to touch the items that were in the
list but not the new images. If they touch all of the items in the
original list and no new items, it is a correct trial.
"We are studying the phenomenon with human children to
determine whether they might develop the same strategy that the
orangutans developed," Swartz said, "which is a spatially-organized
strategy rather than an item-organizational strategy."
Read more about the Drake and Great Ape Trust partnership online.