Thomas R. Pickering gives the 22nd Bucksbaum Lecture at Drake.
FORMER AMBASSADOR CALLS FOR RENEWED EMPHASIS ON DIPLOMACY
Former U.S. Ambassador Thomas R. Pickering, who also served as undersecretary of state for political affairs, called for a renewed emphasis on diplomacy when he presented the Martin Bucksbaum Distinguished Lecture at Drake on Sunday, Oct. 5.
Pickering's lecture was titled "America's Role in the World: Foreign Policy Choices for the Next President."
Before outlining the major challenges facing the next president, Pickering addressed the importance of diplomacy.
"Diplomacy, in my view, will certainly come back into its own as it has not been recently a major tool in our efforts to deal with everything from conflicts to settlements of major disputes and questions," he said.
"Similarly," he added, "those of us who are diplomats know and understand that American diplomacy has benefited enormously over the years from the fact that we have had an absolutely first-class military establishment. . . . The important role for military is to be able to be there to support diplomacy. We should look to use of the military as the last resort and diplomacy as the front line of our major efforts to deal with the numerous problems that are out there before us."
Pickering also noted that "operating alone and sending messages to foreign countries about how we expect them to behave is not now and probably never was a very persuasive activity."
Instead, he said, "We need to think about operating in a broad multilateral context with friends and allies. Leadership through partnership is an approach that is very typical of traditional diplomacy and one that I believe we are certainly well within reach of recovering. These approaches are simple and straightforward, but I think they need to be kept in mind in the years ahead as we consider how we should conduct ourselves."
Pickering went on to list numerous foreign policy issues that will confront the next president when he takes office in January:

Management of the international economic system, including finance, investment and international trade
Public health, food and water supplies, immigration, narcotics and crime, especially in underdeveloped and developing countries
Energy, climate change and the environment
Disarmament and arms control and the potential threat that terrorists will obtain and use weapons of mass destruction
Continuing tensions and instability in the Middle East (including Afghanistan and Pakistan) and the ongoing dispute between Israel and the Palestinians
Countries that will become rivals or partners of the United States over the next 10 years — China, Russia, India, the European Union, Japan and Brazil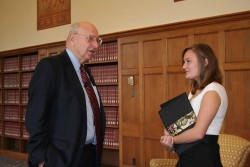 Sarah Power chats with Thomas Pickering following an informal question-and-answer session.
In addition to giving the Bucksbaum lecture, Pickering met
informally for a question-and-answer session Monday morning with
students, faculty and staff.
Topics covered in that session included career prospects for students
interested in joining the foreign service, the strained relations
between Russia and Georgia, and how much the United States should get
involved in Africa, especially the genocide taking place in Darfur.
Pickering was well-received by students attending the lecture and informal talk.
"This man is a legend," said Sarah Power, a sophomore from Maple Grove,
Minn., who is majoring in international relations, magazine journalism
and politics. "Having the opportunity to interact with him in a small
group was just amazing."
Mitch Garrett, a first-year international business major from Phoenix,
agreed. "That was fantastic," he said after the informal session. "It
was exciting to talk with someone with so much wisdom and experience."
Pickering has enjoyed a long and distinguished career
In a diplomatic career spanning five decades, Pickering has served on
each of the major continents and reached the rank of career ambassador,
the highest in the U.S. Foreign Service. He was U.S. ambassador to
Russia, India, Israel, El Salvador, Nigeria and the Hashemite Kingdom
of Jordan.
From 1989 to 1992, Pickering was the U.S. ambassador and representative
to the United Nations in New York, where he led the U.S. effort to
build a coalition in the U.N. Security Council during and after the
first Gulf War.
Pickering served as executive secretary of the department and special
assistant to Secretaries of State William P. Rogers and Henry A.
Kissinger in the 70's and as undersecretary of state for political
affairs from 1997-2000.
After retiring from the State Department, Pickering joined The Boeing
Company as senior vice president of international relations and member
of the Executive Council. He was responsible for the company's
relations with foreign governments and the globalization of Boeing.
He now serves as vice chairman of Hills & Company, International Consultants.
PLAN TO ATTEND MEDIA PANEL DISCUSSION ON 2008 PRESIDENTIAL ELECTION
Drake University Professor of Politics Dennis Goldford will join local journalists Thursday, Oct. 16, for "Des Moines to D.C.: A Press Perspective," a panel discussion on the upcoming presidential election.
The event will begin at 5:30 p.m. with hors d'oeuvres, cocktails, live music and social networking followed by the media panel discussion at 6:45 p.m. in the Des Moines Club at the Ruan Center, 666 Grand Ave.
Goldford will moderate the panel, which will feature:

• Chris Dorsey, former bureau chief at IowaPolitics.com

• Kay Henderson, Radio Iowa

• Dave Price, WHO-TV 13

• Emily Price, KCCI-TV 8

• Paul Yeager, Iowa Public Television

• David Yepsen, The Des Moines Register

• Mike Glover, the Associated Press
The Young Professional Connection and the Greater Des Moines Partnership are sponsoring the event in collaboration with two co-sponsors 21st Century Forum and Bull Moose Club
Registration is required but it is free and open to members and non-members. For more information or to register online, visit the Web site.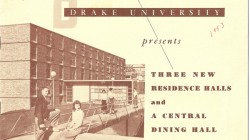 Drake promoted its modern residence halls and dining hall, designed by the Saarinens, in this 1953 publication.
SAARINEN EXHIBIT EXPLORES THE BUILDING OF A MODERN CAMPUS AT DRAKE
Drake University has the distinguished honor of having a campus plan
and nine buildings designed by two of the greatest architects of the
20th century. This fall, a comprehensive exhibition sheds light on how
those designs by Eliel Saarinen and his son, Eero, reflected Drake's
determination to be a modern university that would help propel America
into post-World War II leadership.
"Building a Modern Campus: Eliel and Eero Saarinen at Drake
University" opens with a reception from 5 to 7 p.m. Friday, Nov. 7, at
the Anderson Gallery in the Harmon Fine Arts Center. Curator Maura
Lyons and students involved in the exhibition will give a gallery talk
at 6 p.m.
Students play key roles in the exhibition

Drake art and design students are contributing to the exhibition in
many ways. Those enrolled in Lyons' curatorship course are helping to
design the layout of the exhibition, writing descriptions for the show,
producing an online tour and planning to conduct exhibition and campus
tours.
Students in a graphic design class taught by John Fender are
designing the exhibition catalogue and promotional materials. Plus,
students in Robert Craig's 3-D design course are recreating a
typical dorm room from the 1950s, complete with original Drake
furniture from the period.
After World War II, Drake made a commitment to modern architecture
and art as its campus expanded, acquiring nine Saarinen-designed
buildings as well as a building by Ludwig Mies van der Rohe and a large
mural by painter Stuart Davis, said Lyons, associate professor of art history.
"Specifically," she added, "the University commissioned Eliel and
Eero Saarinen to create a campus plan and buildings to house the
science departments and pharmacy school — Harvey Ingham Hall and Fitch
Hall. Following his father's death in 1950, Eero Saarinen went on to
design the Quad Residence Halls, Hubbell Dining Hall, Medbury Hall and
Scott Chapel for the Divinity School.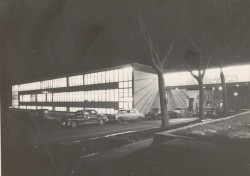 Industrial elements in the design of Harvey Ingham Hall are illuminated at night.
"By physically clustering these structures, the Saarinens
introduced a new spatial organization to the campus that unified
functionally separate spaces for living, studying, socializing and worshipping," Lyons said.
"What is notable, and
was risky at the time," she added, "is their use of an architectural language
previously associated with factories for academic buildings. In
accepting designs that featured brick, glass and metal rather than
classical columns, the University capitalized on the contemporary
equation of industrial technology with progress. The visual association
with industry identified Drake as a forward-looking, modern university
that was committed to innovative design, yet practical and efficient."
Eliel Saarinen became the first internationally renowned architect
to design a building in Des Moines when he received a commission for
the original structure of the Des Moines Art Center in Greenwood Park.
His son, who is best known for designing the Gateway Arch in St.
Louis, has been described by many as "the architect of the American
century."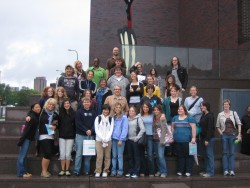 Maura Lyons, right, poses for a photo with her students after visiting the Saarinen exhibit at the Walker Art Center.
The first major retrospective of Eero Saarinen's work is the
subject of a current exhibition at the Walker Art Center and the
Minneapolis Institute of Arts. Lyons recently took a group of students
working on the Drake exhibit to view the retrospective, which will
remain in Minneapolis until Jan. 4, then move to the Mildred Lane Kemper
Art Museum in St. Louis.
The Drake exhibit will document the Saarinens' work at Drake
through sketches, plans, photographs and furniture designs reproduced
from archival material Lyons gathered at Drake, Yale University and the
Cranbrook Academy of Art Archives. Comparisons with other Saarinen
projects, including the General Motors Technical Center in Warren,
Mich., and historical maps of the Drake Neighborhood will place the
university designs in a larger framework.

Exhibition includes free symposium on Nov. 8
A free symposium from 9 a.m. to noon on Saturday, Nov. 8, will
focus on the Saarinens' legacy, modernist architecture in Iowa, and the
historical and current relationship between the University and the
surrounding neighborhood.
The symposium, co-sponsored by the Iowa chapter of the American
Institute of Architects, is open to the general public, although
advance registration is required. To register, call Heather King at
515-271-1994. The symposium will begin with a reception in the lobby of
Harvey Ingham Hall, 2804 Forest Ave.
The keynote speaker will be Peter C. Papademetriou, professor and
director of the graduate program at the School of Architecture, New
Jersey Institute of Technology. He has published extensively on Eero
Saarinen and is working on a book about him.
Also speaking at the symposium will be:
Jason Alread, principal of Substance Architecture and
associate professor of architecture at Iowa State University. He has
written about the history of modern architecture in Iowa.
Jennifer James, an independent scholar specializing in historic preservation who is an expert on the historical and
present-day relationship between Drake and the surrounding area.
Dan Sloan, principal of Baldwin White Architects P.C., who
designed the recent renovation of the Quad Residence Halls and is
working on plans to renovate Hubbell Dining Hall and Harvey Ingham
Hall.
The exhibition will continue through Dec. 19. The Anderson Gallery
is open from noon to 4 p.m. Tuesday through Sunday. For more
information about the exhibit and the gallery, call 515-271-1994.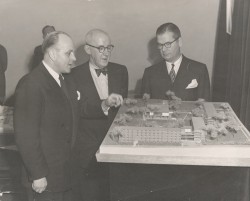 Drake President Henry Harmon and others examine a model of the Dorm Complex and Hubbell Dining Hall in this historic photo.
Drake University has received a grant award of $10,750 from
Humanities Iowa, a state-based affiliate of the National Endowment for
the Humanities, in support of the Saarinen exhibition and symposium.
The views and opinions expressed by this program do not necessarily
reflect those of Humanities Iowa or the National Endowment for the
Humanities.
Additional funding support for the exhibition and programming comes from:
Center for the Humanities, Drake University
College of Arts and Sciences, Drake University
Department of Art and Design, Drake University
Drake University
Friends of Drake Arts
Prairie Meadows Race Track and Casino
Photographs in this story and in the exhibition were provided courtesy of Special Collections, Cowles Library, Drake University.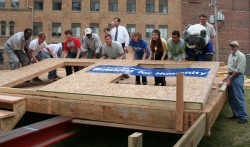 Representatives from Drake and partner organizations raised the wall at this week's ceremony.
DRAKE COMMUNITY CELEBRATES HABITAT FOR HUMANITY BUILD WITH WALL-RAISING CEREMONY
Representatives from Drake and area businesses and churches
recently gathered for a wall-raising ceremony to kick off the group's
Habitat for Humanity home build.
Monday's ceremony featured the raising of one of the home's
eight-foot by 30-foot walls. The celebration also included special
guests Drake President David Maxwell and the University's mascot Spike,
who both helped raise the wall as Drake's fight song played in the
background.
"I am very pleased that we have the opportunity to collaborate with
the community on this important project," Maxwell said. "It is a
powerful manifestation of our commitment to serve the greater good as
an institution, and an exciting way to connect our faculty, staff and
students to addressing the needs of our neighbors."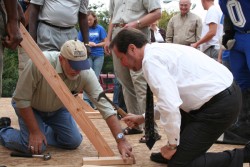 President Maxwell helps at the wall-raising ceremony by swinging a hammer to secure the home's wall.
Two members of the family slated to buy the house attended the
ceremony and helped raise the first wall of the home. Drake students,
faculty and staff will help build the house this month at 26th Street
and University Avenue. When complete, the house will be moved to a
vacant lot on 14th Place, just south of University Avenue.
The homebuyer family of eight chose the new home's location because
it is a quiet street and it is close to Drake and Des Moines Area
Community College — both colleges where the children want to continue
their education. In addition to purchasing the home, the family will
complete sweat equity hours on the construction of their home.
The family, originally from Afghanistan, is renting a house in the
Des Moines area. They fled from Afghanistan for the Soviet Union after
a bomb destroyed their home and injured their oldest son.
They are one of 21 families this year that will move into a Habitat
for Humanity home, said Lance Henning, executive director of Greater
Des Moines Habitat for Humanity.
The Drake Area Habitat Build 2008 is a partnership among Drake
University and its students, staff and faculty, Greater Des Moines
Habitat for Humanity, the Drake University Habitat for Humanity Student
Organization, First Christian Church and other neighborhood groups in
the Drake area.
The group hopes to raise $75,000 to cover most of the home
construction costs. To make a donation, send a check made out to FCC –
Habitat Project to First Christian Church, 2500 University Ave., Des
Moines, IA 50311.
For more information, contact Dolph Pulliam at 515-271-3084 or dolph.pulliam@drake.edu.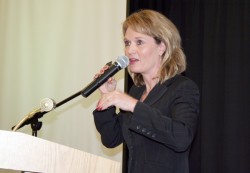 Laura Hollingsworth
DES MOINES REGISTER LEADERS EMBRACE NEW TECHNOLOGY AND INDUSTRY CHALLENGES
In the midst of breaking news and economic challenges, Des Moines Register leaders Laura Hollingsworth and Carolyn Washburn were intent on talking about their newspaper at a recent Drake lunch.
"We could be here talking about a lot of topics like economics or our visit with McCain yesterday, but we want to talk about us!" said Hollingsworth, publisher of the Register.
Hollingsworth and Des Moines Register Executive Editor Washburn presented "The Des Moines Register – Tradition and Transformation" on Oct. 1 as part of Drake's "Let's DU Lunch" series. The fall series will conclude Wednesday, Nov. 5, with networking at 11:30 a.m. and a noon lunch and presentation by World Food Prize President Kenneth M. Quinn at inPlay, 615 Third St., Des Moines.
The Register leaders outlined current challenges for the industry as newspapers strive to adapt to the changing economy, increased competition, rising costs for production and ever-evolving media consumption behavior among readers.
"Yes, it's a challenging time, but an exciting one," Hollingsworth said. "The newspaper industry is facing by far the most challenging period in its history."
She said, "challenges the industry is facing are actually accelerating the Register's transformation from a traditional newspaper company to a multimedia enterprise serving a range of audiences on multiple products on multiple platforms."
She outlined some of the Register's accomplishments in the last year, including:
• A No. 1 ranking in the United States for newspaper market penetration for both daily and Sunday newspapers by Scarborough Research
• Eight out of ten adults have read at least one edition of the Des Moines Register in one week on average
• 2.1 million unique users of the DesMoinesRegister.com Web site per month
To survive in a complex business with complex customer expectations, Hollingsworth said, the Des Moines Register has grown and added more platforms to its operations.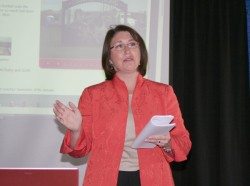 Carolyn Washburn
Washburn discussed a variety of
tools the Register uses to get news and information to its readers.
With technology changes, those outlets have increased beyond the
physical newspaper and its Web site (desmoinesregister.com) to other
Web sites, blogs, videos, photo galleries, live Web streaming, online
forums and mobile phone updates, among others.
Some of the newer platforms are Metromix, Moms Like Me and Juice.
Although
journalists have had to change the way they do their job by learning
new technology, the Register's core mission has not changed, Washburn
said.
"We are still about public service, information that is
useful, entertainment and fun, and we are about connecting people," she
said.
Washburn then showed the audience how the Register
brought a layered approach to giving readers information during the
caucuses, with voter guides, online coverage, a searchable issues
database, live Web streaming video of the debates and more.
She also showed a video of the first post-tornado high
school football game in Parkersburg, Iowa, to demonstrate how the
Register covered the summer storms and their aftermath.
Washburn said being able to experience the impact of the
news differently by watching video or experiencing news through other
media is why the Register is ahead of the curve.
"We are planning for change," Washburn said, "and we're at the edge of the curve."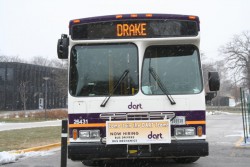 FREE BUS RIDES GROW MORE POPULAR WITH DRAKE COMMUNITY


To help cope with high gas prices, Drake is taking advantage of the new program that provides free rides on DART buses.
"Drake
employees have shared with me how much they appreciate this benefit,
particularly in light of the high gas prices we have experienced over
the past year," said Vanessa Macro, director of human resources.
The program, which gives all people with a Drake ID free rides on DART buses, has seen a major increase in ridership.
In
December, 988 rides were given to Drake faculty, staff, students and
retirees. That number grew to an all-time high of 3,952 rides in
August, which showed a 300 percent increase from December.
Approximately 25,100 rides have been given to Drake students, faculty
and staff since the program began in December.
Waukee residents Karen Pomeroy, academic support
specialist for the College of Business and Public Administration, and
John Pomeroy, associate professor of theatre arts, started taking the
bus in January to save money. Since then, they have discovered the
program offers other benefits as well.
"It is easy to get on and off the bus, plus you get to
know a lot of people who ride it everyday," said Karen Pomeroy, "It is
a release of stress knowing you don't have to drive during rush hour."
Jayne Smith, director of sponsored programs, started
taking the bus in June from Ankeny. She drives to the bus station,
leaves her car and enjoys her coffee and a book on the ride to work.
Smith said at first she was hesitant to transfer buses, but found the
routine to be easy.
"I like not having to concentrate on driving," Smith said. "I encourage more people to take advantage of the great opportunity."
Macro said new faculty members are looking forward to using the free DART services and plan to use the bike rack system.
"During
faculty orientation, several new faculty were excited to learn of the
no-cost transportation benefit as they were planning to bike to work,"
Macro said. "Because of DART's bike rack system, they now had the
option of biking to the bus route, placing their bike on the bus bike
rack and riding the bus the remainder of the way to campus."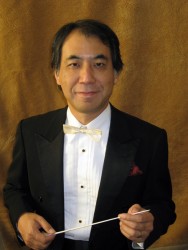 Akira Mori
DRAKE SYMPHONY ORCHESTRA GAINS NEW DIRECTOR



Longtime
conductor and professor Akira Mori recently joined Drake as the new
director of the Drake University Symphony Orchestra.
Mori, a native of Japan, succeeds John Canarina, who
directed the Drake Symphony for 35 years before retiring last spring as
director of orchestral studies.
Mori's previous conducting engagements include the Tokyo
Symphony, Tokyo Chamber Orchestra and the Minnesota Orchestra. He has
professionally conducted in countries such as Japan, the United States,
Russia, Ukraine, Moldova and Argentina. He plans to return to Romania
to conduct in 2009.
He has won the Hideo Saito Award from Tokyo
International Music Competition Conducting Contest and the Best
Concerto Accompanying Award from Dinu Niculescu International
Competition in Romania.
Mori is equally active in the teaching field and has
been a professor and conductor in music schools at Indiana University,
the University of Minnesota, Louisiana State University and Tokyo
College of Music, among others.
He received his bachelor's degree in flute performance
from the New England Conservatory and his master's degree in orchestral
conducting from Indiana University.
Mori also has participated in music festivals in Vienna,
Aspen, Tanglewood and others. His recordings can be heard on Japan
Victor.
Inaugural concert to feature Tchaikovsky and Beethoven
Mori will conduct his debut concert at 8 p.m. Saturday, Nov. 1, on the Jordan Stage in Sheslow Auditorium in Old Main.
The
program will feature Tchaikovsky's Romeo and Juliet Fantasy Overture
and Beethoven's Symphony No. 7. Both of these works are part of the
major repertoire of medium-sized orchestras.
"I wanted to highlight the students with two major
orchestral works at this first concert," Mori said. "I believe the
level of difficulty of these pieces is suitable for the students'
abilities and will prove challenging for them."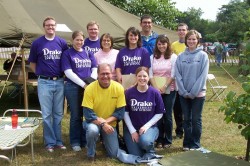 Back row (L to R): James Neal, Ed Cox, Zack Brost, Sam Benham; middle row: Erica Nichols, Julia Ofenbakh, Adrienne Boone, Andrea Baca, Laura Barnaby; front row: Prof. Bob Rigg and Meggan Guns.
DRAKE LAW STUDENTS VOLUNTEER TO HELP VETERANS AT STANDDOWN



Ten Drake University law students offered legal
assistance to homeless veterans during the Veteran's Administration
StandDown last weekend. Bob Rigg, Drake associate professor of law,
supervised the students giving legal advice.
Rigg and the students worked at the StandDown for five hours on Saturday and found 18 new clients for the Drake Legal Clinic.
The
StandDown lasted for three days on the grounds of the Iowa Judicial
Branch Building near East 14th Street and Court Avenue in Des Moines.
Rigg said there were 200 to 300 veterans who attended the veteran's fair on Saturday.
"We
consulted the vets on a variety of issues," Rigg said. "There weren't a
lot of criminal issues — mostly driving, small claims, social
security, medical benefits and things along that line."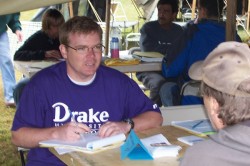 Law student Ed Cox assists a vet at the recent StandDown.
The
StandDown also gave homeless veterans the opportunity to register for
medical care, social services, clothing and letter-writing services. In
addition, this year they also were able to check their public records.
Meggan Guns, a third-year law student, explained that
the StandDown was a win-win situation for the students and the vets.
She said the students were able to offer legal advice to the veterans,
and in return, the students gained valuable experience for their
careers.
"As student attorneys, we were exposed to issues that
many of us hadn't dealt with before," Guns said. "And the people we
helped were so grateful to have someone listen to them."
The first StandDown was organized in 1988 by a group of
Vietnam veterans in San Diego. Between 1994 and 2000, StandDowns
reached more than 200,000 veterans and their family members.
Read more information on StandDowns online.