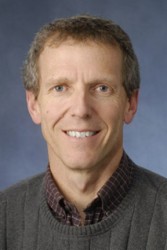 Karl Brooks
MEDIA CONTACT: Tory Olson, 515-271-1834, tory.olson@drake.edu
Karl Brooks, associate professor of history and environmental studies at the University of Kansas, will present two lectures Monday, Oct. 6, as part of Drake University's Earth Week celebration. Both lectures are free and open to the public.
The first lecture, "What's Black and White and Plaid All Over? American Environmental Activism during the Cold War Era," will begin at 11 a.m. in room 206 of Cartwright Hall, 2621 Carpenter Ave.
The second lecture, "Before Earth Day: How Americans Invented Environmental Law in the Eisenhower Years," will start at 3 p.m. in room 201 of Cartwright Hall.
The events are sponsored by Drake Environmental Action League (DEAL), the Drake Center for the Humanities and Drake Law School.
Brooks holds degrees from Yale and the London School of Economics and Harvard. He also received a Ph.D. from the University of Kansas. His teaching interests include environmental law, North American environmental history and policy, American legal history and postwar American culture and politics.
For 10 years, Brooks practiced law in Boise, Idaho, and served three terms in the Idaho Senate. Before returning to graduate school, he also worked for the Idaho Conservation League, Idaho's largest citizens' environmental group.
Brooks has published numerous articles in the fields of environmental history and environmental law and was a Supreme Court fellow in Washington, D.C., from 2001-02.
For more information on Brooks' lectures, contact Amahia Mallea at 515-271-4585 or amahia.mallea@drake.edu.