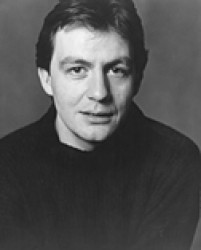 Alan Cox
MEDIA CONTACT: Lisa Lacher, 515-271-3119, lisa.lacher@drake.edu
Actor Alan Cox, who has a leading role in "Frost/Nixon" at the Civic Center of Greater Des Moines, will visit Drake University Thursday, Oct. 2, for an "In the Actors Studio"-style discussion.
Deena Conley, Drake associate professor of theatre arts, will moderate the talk, which will take place from 2 to 3 p.m. in the Performing Arts Hall in the Harmon Fine Arts Center, 25th Street and Carpenter Avenue. This event is free and open to the public.
Cox plays David Frost in "Frost/Nixon," which opens today (Tuesday, Sept. 30), at the Civic Center and runs through Oct. 5.
"Frost/Nixon" tackles the question: How did David Frost, a famous British talk-show host with a playboy reputation, elicit the apology for the Watergate scandal that the rest of the world was waiting to hear from former President Richard Nixon?
Legendary stage and screen actor Stacy Keach leads a cast of 10 in this new fast-paced Tony Award-nominated play, which shows the determination, conviction and cunning of two men as they square off in one of the most monumental television interviews of all time. "Frost/Nixon" is written by Peter Morgan, writer of "The Queen," "The Last King of Scotland," and HBO's "Longford." Olivier Award winner Michael Grandage directs the production.
For more information about the play and tickets, visit the Civic Center's Web site.
Cox graduated from The London Academy of Music and Dramatic Art in 1991 and performed for several seasons at the Royal Shakespeare Company and the Chichester Festival Theatre. His acting credits also include:

"The Seagull"
"Absolute Hell"
"Wild Oats"
"An Enemy of the People"
"The Importance of Being Earnest"
"Strange Interlude"
He also worked at the Lyric Theatre Belfast in John Bull's "Other Island" by George Bernard Shaw and toured with Howard Barker's Wrestling School in "The Fence in its Thousandth Year." He appeared in the London premieres of "The Earthly Paradise" by Peter Whelan, "The Flu Season" by Will Eno and "The Rubenstein Kiss" by James Philips.
He also has numerous film and TV credits, such as:

"August"
"The Speed of Thought"
"Ladies in Lavender"
"Justice"
"The Auteur Theory"
"Mrs. Dalloway"
"An Awfully Big Adventure"
"Young Sherlock Holmes"
"John Adams"
"Custer's Last Battle"
"Not Only But Always"
In addition, Cox has directed "Flanders Mare," "Dirty Fan Male," "The Riot Act," "A&R" and "Desire Caught By The Tale."