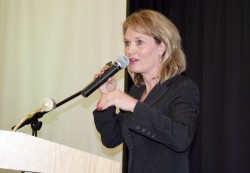 Laura Hollingsworth
MEDIA CONTACT: Tory Olson, 515-271-1834, tory.olson@drake.edu
In the midst of breaking news and economic challenges, Des Moines Register leaders Laura Hollingsworth and Carolyn Washburn were intent on talking about their newspaper at a recent Drake lunch.
"We could be here talking about a lot of topics like economics or our visit with McCain yesterday, but we want to talk about us!" said Hollingsworth, publisher of the Register.
Hollingsworth and Des Moines Register Executive Editor Washburn presented "The Des Moines Register – Tradition and Transformation" on Oct. 1 as part of Drake University's "Let's DU Lunch" series.
They outlined current challenges for the industry as newspapers strive to adapt to the changing economy, increased competition, rising costs for production and ever-evolving media consumption behavior among readers.
"Yes, it's a challenging time, but an exciting one," Hollingsworth said. "The newspaper industry is facing by far the most challenging period in its history."
She said, "challenges the industry is facing are actually accelerating the Register's transformation from a traditional newspaper company to a multimedia enterprise serving a range of audiences on multiple products on multiple platforms."
She outlined some of the Register's accomplishments in the last year, including:
• A No. 1 ranking in the United States for newspaper market penetration for both daily and Sunday newspapers by Scarborough Research

• Eight out of ten adults have read at least one edition of the Des Moines Register in one week on average

• 2.1 million unique users of the DesMoinesRegister.com Web site per month
To survive in a complex business with complex customer expectations, Hollingsworth said, the Des Moines Register has grown and added more platforms to its operations.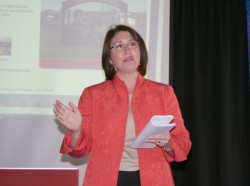 Carolyn Washburn
Washburn discussed a variety of tools the Register uses to get news and
information to its readers. With technology changes, those outlets have
increased beyond the physical newspaper and its Web site to other Web sites, blogs, videos, photo
galleries, live Web streaming, online forums and mobile phone updates,
among others.
Some of the newer platforms are Metromix, Moms Like Me and Juice.
Although journalists have had to change the way they do their job by
learning new technology, the Register's core mission has not changed,
Washburn said.
"We are still about public service, information that is useful,
entertainment and fun, and we are about connecting people," she said.
Washburn then showed the audience how the Register brought a layered
approach to giving readers information during the caucuses, with voter
guides, online coverage, a searchable issues database, live Web
streaming video of the debates and more.
She also showed a video of the first post-tornado high school football
game in Parkersburg, Iowa, to demonstrate how the Register covered the
summer storms and their aftermath.
Washburn said being able to experience the impact of the news
differently by watching video or experiencing news through other media
is why the Register is ahead of the curve.
"We are planning for change," Washburn said, "and we're at the edge of the curve."