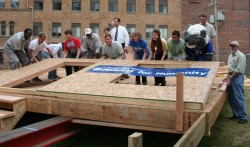 Representatives from Drake and project partners raise the first wall of the Habitat for Humanity home.
CONTACT: Tory Olson, 515-271-1834, tory.olson@drake.edu
Representatives from Drake and area businesses and churches
recently gathered for a wall-raising ceremony to kick off the group's
Habitat for Humanity home build.
Monday's ceremony featured the raising of one of the home's
eight-foot by 30-foot walls. The celebration also included special
guests Drake President David Maxwell and the University's mascot Spike,
who both helped raise the wall as Drake's fight song played in the
background.
"I am very pleased that we have the opportunity to collaborate with
the community on this important project," Maxwell said. "It is a
powerful manifestation of our commitment to serve the greater good as
an institution, and an exciting way to connect our faculty, staff and
students to addressing the needs of our neighbors."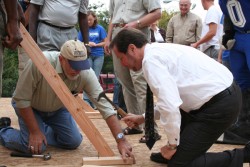 President Maxwell swings a hammer to help secure the wall raised at this week's ceremony.
Two members of the family slated to buy the house attended the
ceremony and helped raise the first wall of the home. Drake students,
faculty and staff will help build the house this month at 26th Street
and University Avenue. When complete, the house will be moved to a
vacant lot on 14th Place, just south of University Avenue.
The homebuyer family of eight chose the new home's location because
it is a quiet street and it is close to Drake and Des Moines Area
Community College — both colleges where the children want to continue
their education. In addition to purchasing the home, the family will
complete sweat equity hours on the construction of their home.
The family, originally from Afghanistan, is renting a house in the
Des Moines area. They fled from Afghanistan for the Soviet Union after
a bomb destroyed their home and injured their oldest son.
They are one of 21 families this year that will move into a Habitat
for Humanity home, said Lance Henning, executive director of Greater
Des Moines Habitat for Humanity.
The Drake Area Habitat Build 2008 is a partnership among Drake
University and its students, staff and faculty, Greater Des Moines
Habitat for Humanity, the Drake University Habitat for Humanity Student
Organization, First Christian Church and other neighborhood groups in
the Drake area.
The group hopes to raise $75,000 to cover most of the home
construction costs. To make a donation, send a check made out to FCC –
Habitat Project to First Christian Church, 2500 University Ave., Des
Moines, IA 50311.
For more information, contact Dolph Pulliam at 515-271-3084 or dolph.pulliam@drake.edu.