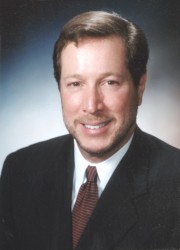 President David Maxwell
Welcome, and thank you for being here this afternoon. As I stated in the memo that I sent out last week, we are going to move to a new format this year that involves members of the President's Cabinet.
In my remarks today, I'd like to make just a few points:

That Drake University is, perhaps, at one of the most important and promising moments in its history;
That we must seize this moment to shape our future;
That we must focus not only on our vision for Drake's future, but on the constantly changing challenges that we face.
Drake is probably more vibrant, vital and ambitious about our future that we've ever been — I know from talking to you that you know that, that you sense that — everyone that I talk to, from members of the Des Moines community to alums around the country are saying that "there's a buzz at Drake these days; something special is happening."
So let me share with you a staccato list of things from this past year that are objective indicators of the health and vitality of Drake University, the things that we've accomplished collectively:

As you well know, last fall we enrolled the largest first-year class in decades (with a slightly higher academic profile than the previous year), 143 more than the previous year; the largest group of transfers in quite some time, and we had one of the largest international student populations on campus in the University's history ; this fall we enrolled 72 more first-year students than our goal, and our campus visits from prospective students are up over 20% from last year;
But we don't want it to repeat continually — we know our size is an attribute that is valued; we will continue to work to hit the number of 830 first-year students;
We finished the last fiscal year with a budget surplus for the 4th year in a row; all of those surplus funds were utilized for renovation of campus facilities;
I'm sure you know that the cost of college, and student loan debt, are major issues on a national scale now. In the past decade, the average annual Drake tuition increase has been 4.3% — well below the national average, and we're committed to doing everything we can to keep our costs to our students and their parents as low as possible;
We have a benchmark group of 12 top master's institutions with which we compare ourselves on various performance ratios — we're at the top of that list for academic quality, and #11 for cost — and we want to keep it that way;
We renovated another 10 classrooms last year, for a total of 31 in the past 3 summers, all with updated technology thanks to the generosity and leadership of our Board of Trustees;
Our $15 million revitalization of Drake Stadium has realized its promise: NCAA Midwest Regionals in 2007; NCAA National Track & Field Championships this summer; US Track & Field Outdoor National Championships in 2010; 100th running of the Relays next April;
With the renovation of the 2 remaining Quad buildings this summer — every residence room on campus is renovated within the past 5 years; and air-conditioned!
All told, with the completion of the residence hall renovation project, we have put more than $65 million into physical plant in the last 6 years;
For this fiscal year, we have added another $2.1 million to the faculty/staff compensation budget, for a total of over $11 million in 6 years, and continue to make significant progress toward our goal of ensuring that Drake salaries are equitable and competitive and that we continue to attract and retain the very best people. Unfortunately, the benchmark is a moving target, and we still have a lot of work to do on this issue;
The Drake Law School Student Bar Association was ranked the number one student bar association in the country by the ABA; Sean Bagniewski, last year's president of the Student Bar Association, was named the outstanding SBA president in the nation by the ABA;
The law school was ranked #2 in the country for practical training, (behind Yale) by American Jurist Magazine, and received the 2008 Gambrelle award for professionalism from the American Bar Association;
We're very proud of the results of The Chronicle of Higher Education's "Great Colleges to Work For," survey; — Drake placed in the top 5 in the country for institutions of our size in 11 categories! and the edition featured a separate article on Drake;
And then there was our nationally-ranked men's basketball team — winning 21 games in a row with players who are real students in academically-demanding majors, and who graduate, winning the conference championship game by a record 30 points – but there's a lot more to our remarkable athletics program, including a women's basketball team that shared the conference title (we're the only Division I institution in the country — out of 340 — that had a men's and a women's basketball player on the Academic All-America first team); our women's softball team won the conference tournament and went to the NCAA with one of the highest GPAs in the country, and our men's tennis team set a record with over 40 straight home match victories, going undefeated in the conference for the second year in a row;
Adam Emmenecker and I were on CNBC – not ESPN, but a financial news program! (I'm sure that they say me as a necessarily evil to get Adam on the program…)
Last year, Drake University reigned as the MVC Academic Champions, and 52 student-athletes were named to Conference Academic Teams;
Nearly 80% of Drake students participated in community service or volunteer work in the past year — a powerful manifestation of our mission commitment to engaged citizenship;
In hosting the nationally-televised Republican and Democratic Presidential Debates in last August, we expanded to a national level our role as the place in which the community comes together to engage the critical issues of the day;
Two graduating senior and one faculty member received Fulbright Fellowships — we continue to be among the top among Master's institutions nationally in Fulbright participation;
Drake is a charter signatory to the Presidents' Climate Commitment—a public affirmation of our determination to minimize the University's environmental footprint to the greatest extent possible;
And last, but by no means least, as you all know, every ten years, colleges and universities must undergo reaccreditation by their regional accrediting body — in our case, the Higher Learning Commission of the North Central Association. For the past four years, dozens of faculty, staff and students on campus, led by Provost Ron Troyer and Associate Provost Sue Wright, were engaged in an intensive assessment and analysis of virtually every aspect of Drake's operations, culminating in the preparation of the University's formal self-study document. The result of these efforts was not only a completely "clean" reaccreditation (i.e., there are no follow-up actions or reviews required), but one of the most laudatory overall assessments that any of us had ever seen. The accreditation report was a ringing endorsement of the quality of the academic program, institutional planning, pervasive commitment to the mission, and our preparation for the future.
When we look at all that we've accomplished by working together with common purpose — not just in this past year, but in the past decade, when we look at the vibrancy and vitality of Drake in 2008, it is clear that we have created the platform on which to build our future — that we have created the opportunity to dream about what Drake can be, and to make those dreams come true.
While we have much to be proud of, we are not and cannot be complacent. We have ambitious aspirations for our future—including the aspiration to be one of the very best institutions of higher education in the country, keeping the promise of our mission to prepare students for meaningful personal lives, professional accomplishment, and responsible global citizenship. What we have accomplished thus far constitutes the foundation on which we can build great things. It gives us confidence that with careful strategic planning and concentrated, collaborative effort, we can do what we set out to do, and that our vision for the future of a university that is distinctly Drake is well within our reach.
The message in all this is very simple: this is Drake's time — and we need to take advantage of it. As you know, we have a very clear vision of what we want Drake to be, as articulated in Vision 2012. It's a clear and exciting aspiration — "to be — and to be recognized as — one of the very best institutions of higher education in the United States." We are already recognized nationally — and internationally — for who we are and what we do — not just by U.S. News & World Report, Barron's, Kiplinger's, Princeton Review and Rolling Stone, but increasingly by our peers in higher education.
I am convinced that the way we do higher education at Drake — the intentional, deliberate focus on the best of liberal arts & sciences education with the best of professional preparation — is a very powerful model for the national higher education community, and there is increasing evidence on a regular basis that other institutions are looking at us as a model for excellence and effectiveness.
We have just completed Drake University's new strategic plan, through the year-long effort of the planning council and dozens of other faculty, staff and students who served on subcommittees. The plan will be submitted to the Board of Trustees for approval next week (it's been endorsed by the Faculty Senate, All-Staff Council, and I meet with the Student Senate tonight). If you haven't seen it yet, it's available on blueView;
The Strategic Plan focuses on four goals:

Create a distinctive educational experience
Create an exceptional learning and work environment
Carry out the university's responsibility to serve the common good
Prepare for the future — building the foundation for transformation
Our job now is to build on everything we've done, focusing on our strategic vision, guided by the strategic plan, doing everything that we can to keep the promise to our students of an exceptional learning environment. I am confident in our ability to keep that promise because of you – because of our dedicated faculty and staff; it is you and your efforts that have brought Drake to its position of strength today, and it is you and your efforts that ultimately define the Drake experience for each of our students;
But as we look at the future and our vision for Drake, we also recognize that there are significant challenges, both internally and externally. I believe that we have the strength, the resiliency and the foresight to manage these challenges, but we must have them in our sights, and we must be constantly reevaluating their impact on our ability to achieve our goals. And so I've asked each member of the President's Cabinet to briefly share with you the challenges that face Drake in their respective areas of responsibility — and I'd ask you to think about these issues and attend the campus town meeting on October 7 for an open discussion on these and other important issues.
Before I turn the microphone over to Art Sanders, President of the Faculty Senate, for his remarks, I want to express my gratitude to all of you for all that you do for Drake, for our students, and for our community — it is a privilege for Maddy and me to be part of this remarkable Drake family. And now, Professor Art Sanders.