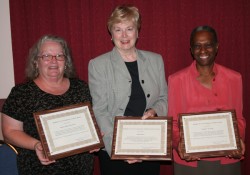 Margie Davidson, Diana Reed and Wanda Everage display their Levitt Awards.
Three members of the Drake University staff were awarded Madelyn M. Levitt Awards on Thursday, Sept. 25, at the annual Fall Faculty and Staff Convocation in Sheslow Auditorium in Old Main.
"The selection committee was challenged with an impressive group of nominations — lending further support to the idea that it is the people — the dedicated faculty and staff — more than any brick or mortar — who make Drake the indelible place that it is today," said Venessa Macro, director of human resources.
Diana Reed, associate professor of management, received the Madelyn M. Levitt Distinguished Community Service Award. Wanda Everage, vice provost for student affairs and academic excellence, and Margie Davidson, director of student records and academic information, are 2008 recipients of the Madelyn M. Levitt Employee Excellence Award. The awards were established by Levitt, a Drake trustee and special assistant to the president for development.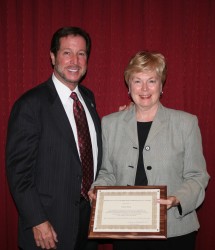 Drake President David Maxwell and Diana Reed
Reed, a resident of Des Moines, received the Community Service Award
because of her deep commitment to service for the Rotary District and
her community service involvement throughout Iowa. Her nominators said
she has a demonstrated a true commitment to service within the
University and beyond.
Reed is the district governor for Rotary District 6,000, where she
provides leadership and administration for a volunteer network of
hundreds of people.
She has worked with a Rotary District in Nigeria to help eradicate
polio and traveled to Nigeria in 2007 as part of the Rotary District
6,000 Nigeria Initiative Team. There she helped identify projects to
help with the Rotary District's clubs, build trust with the people of
Nigeria and help with Nigeria Polio Immunization Plus Days.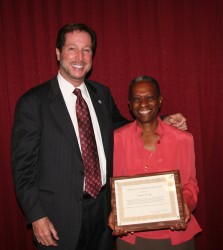 Drake President David Maxwell and Wanda Everage
In addition, Reed helped with the Reach Out and Read program, which
trains doctors and nurses in promoting early literacy. She also served
on the Task Force for Women and Minorities, the Iowa Commission on the
Status of Women, the Clive Capital Planning Committee and served in
various office positions in the Federation of Business Disciplines.
Everage, a resident of Ankeny, was nominated for the Employee
Excellence Award for her commitment to excellence and ongoing
commitment to improvement.
Her nominator said her role is vital to the
organization and "No one better exemplifies the commitment to
excellence."
"Each year Wanda puts in many hours going over every detail with
the individuals involved. She has the marvelous capacity to educate the
peer mentors and other students regarding their roles. She effectively
brings together the representatives of the colleges and schools. Few
understand the hard work Wanda puts in to make sure these events are so
impressive," said her nominator.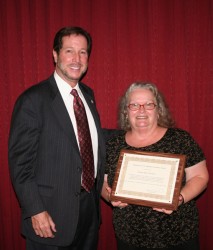 Drake President David Maxwell and Margie Davidson
Davidson, a resident of Windsor Heights, was nominated for the
Employee Excellence Award for her many contributions to the University
over her many years of service at Drake.
Her nominator cited her relentless attention to detail and her
commitment to service in many key projects at Drake. Her nominator
said, "Many times Margie and her staff have walked around campus
ensuring that the classroom descriptions are accurate and double
checking room assignments to insure that no classroom is double
booked."
"Margie remains one of the unsung heroes of daily life at Drake," her nominator added.
Drake President David Maxwell delivered the 10th annual state of
the University address, which highlighted some of this year's
accomplishments for Drake including:
• Sustained enrollment

• The completion of the residence halls revitalization project

• A top five rating in the Chronicle of Higher Education's "Great Colleges to Work For" survey

• Successful men's and women's basketball seasons

• Hosting two nationally televised ABC Presidential Debates

• Becoming a charter signatory to the American College and University Presidents Climate Commitment

• The continuation of accredited status by the Higher Learning Commission
"This is Drake's time and we need to take advantage of it,"
President Maxwell said. He expressed his gratitude for faculty and
staff for making the experience for each and every student distinctly a
Drake experience.



In addition, members of the President's Cabinet highlighted
projected challenges in their respective areas for the 2008-09 academic
year. The speakers were:
• Art Sanders, professor of politics and president of the Faculty/Staff Senate

• Ron Troyer, provost

• Vicky Payseur, vice president for business and finance

• Tom Delahunt, vice president for admission and student financial planning

• John Smith, vice president for alumni and development
Some challenges raised included the economy, reaching goals set by
the University's Strategic Plan, changes in academic leadership and
managing enrollment.