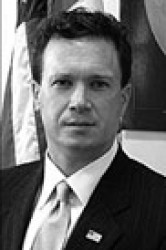 Roger Cressey
MEDIA CONTACT: Lisa Lacher, 515-271-3119, lisa.lacher@drake.edu
Counterterrorism analyst for NBC News Roger Cressey will present "International Terrorism" on Tuesday, Oct. 7, as part of Drake University's lecture series on the United States and the World.
The lecture, which is free and open to the public, will start at 12:30 p.m. in Bulldog Theater in Olmsted Center, 2875 University Ave.
Cressey previously served as chief of staff to the President's Critical Infrastructure Protection Board at the White House and as director for transnational threats on the National Security Council staff.
As director of transnational threats, Cressey managed the U.S. government's response to the Millennium terror alert, the U.S.S Cole attack and the Sept. 11 attacks.
He also advises clients on homeland security, cyber security and counterterrorism issues.
The United States and the World lecture series is sponsored by Drake's Center for Global Citizenship in cooperation with the National Security Network.
For more information about the event, call 515-271-2117.
The schedule for the rest of the series is available online.