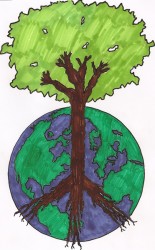 MEDIA CONTACTS: Robb Krehbiel,
robb.krehbiel@drake.edu
;
Tory Olson, 515-271-1834,
tory.olson@drake.edu
The Drake University Environmental Action League (DEAL) is hosting its
third annual Earth Week celebration this week with the goal of transforming the traditionally
Drake-centered event into an experience for the entire community.
Earth Week is a series of events intended to increase environmental
awareness and activism from the grassroots level. DEAL was founded on
the principle that everyone has an opportunity, and a responsibility,
to improve the world.
In the past, DEAL has catered Earth Week activities solely to the
students, faculty and staff on the Drake campus, but this year Earth
Week organizers have decided to incorporate the surrounding community.
"This year we're making Earth Week more about Des Moines by showing
people that the city has local organizations working on conservation,
we have local farmers who provide excellent produce and local heroes
that rescue neglected animals, and we have an effective local
transportation system," said DEAL Co-President Robb Krehbiel. "I really
want people to see how they can take the initiative to reduce their
impact on the environment without having to leave their home."
Below is a listing of remaining Drake's Earth Week activities, which are free and open to the public. All of the events take place on Helmick Commons in the center of the Drake campus, unless otherwise noted.


Friday, Oct. 3, 9 a.m. – 5 p.m.

Theme: Transportation Day

Description: Students groups (three to six students per group) will
explore Des Moines using only the DART bus system. Students check in
with DEAL at Helmick Commons and receive a book with the names of seven
local area businesses they must obtain signatures from. Each signature
acquired qualifies the students for a raffle to win prizes from that
business.
In conjunction with the Earth Week celebration, DEAL, the Drake Center for the Humanities and Drake Law School will present two lectures next week by Karl Brooks, associate professor of history and environmental studies at the University of Kansas. On Monday, Oct. 6, Brooks will discuss "What's Black and White and Plaid All Over? American Environmental Activism during the Cold War Era" at 11 a.m. in room 206 of Cartwright Hall, 2621 Carpenter Ave. Later that day, Brooks will present "Before Earth Day: How Americans Invented Environmental Law in the Eisenhower Years" at 3 p.m. in room 214 of Cartwright Hall.
For more information on these lectures, contact Amahia Mallea at 515-271-4585 or amahia.mallea@drake.edu.