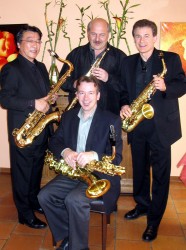 Front: Richard Dirlam; Back (L-R): Keiji Munesada, Jean-Pierre Baraglioli and Bill Street.
MEDIA CONTACT: Tory Olson, 515-271-1834, tory.olson@drake.edu
The International Saxophone Quartet, a group of musicians from the four corners of the world, will perform at Drake University Thursday, Oct. 9.
The concert, which is free and open to the public, will start at 8 p.m. on the Jordan Stage in Sheslow Auditorium in Old Main, 2507 University Ave.
"The International Saxophone Quartet includes Premier Prix winners from Paris and Bordeaux conservatories in both saxophone and chamber music. This concert offers an opportunity of rare magnitude for Drake students and Des Moines audiences alike," said Jim Romain, associate professor of saxophone and assistant director of jazz studies.
"The saxophone is particularly adept in modern classical chamber music," Romain added, "both through its technical prowess and expressive qualities, all of which the group exploits to its fullest potential."
The quartet, which was formed in 2000, features:

Jean-Pierre Baraglioli of France, soprano saxophone
William Street of Canada, alto saxophone
Keiji Munesada of Japan, tenor saxophone
Richard Dirlam of the United States, baritone saxophone
Since its successful debut in the XIII World Saxophones Congress in Minneapolis, the group has organized a series of concerts each year in France, Belgium, Slovenia, Japan, Thailand and the United States.