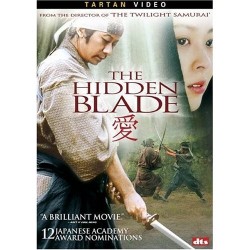 CONTACT: Lisa Lacher, 515-271-3119,
lisa.lacher@drake.edu
Drake University's International Film Series will begin Sunday, Sept. 14, with a screening of "The Hidden Blade" (Kakushi ken oni no tsume), a Japanese film with English subtitles.
The series is sponsored by the Center for Global Citizenship. All of the films, which are free and open to the public, will start at 2 p.m. in room 101 of Meredith Hall, 2805 University Ave.
David Skidmore, director of Drake's Center for Global Citizenship, will introduce the film and lead a discussion afterwards.
"The Hidden Blade" tells the story of Munezo, a low-ranking samurai, who is forced to betray his upbringing in the traditions and moral code of the samurai in order to find and kill his former friend, samurai and brilliant swordsman. He enlists the help of his old teacher who entrusts Munezo with the secret and power of The Hidden Blade.
The schedule of films for the remainder of the fall semester is as follows:
• Sunday, Oct. 12 — "Devils on the Doorstep" (Guizi lai le) — Mandarin and Japanese with English subtitles. This film tells the story of Ma Dasan, a Chinese peasant, and his neighbors who resent the Japanese "devils" who invaded and occupied China in the 1920s. Through a series of events, Ma Dasan learns the hard way that "devils" are not necessarily foreign and that war can turn the best of men into the worst.
• Sunday, Nov. 16 — "Earth" — Hindi with English subtitles. In this film, the hateful religious and civil wars that took place in India and Pakistan in 1947 are told through the eyes of a little girl, Lenny. She watches as a trainload full of the bodies of massacred Muslims arrives in their town, gangs march through the streets and Hindu tenements are burned to the ground.