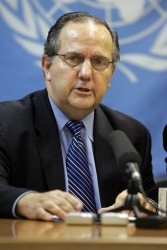 Juan E. Mendez
CONTACT: Tory Olson, 515-271-1834, tory.olson@drake.edu
Juan E. Mendez, attorney and longtime human rights supporter, will deliver Drake Law School's Constitutional Law Distinguished Lecture at 4 p.m. Thursday, Sept. 18, in room 213 of Cartwright Hall, 2621 Carpenter Ave.
Mendez's lecture is part of Drake's Constitution Day celebration. The event is in commemoration of the date Sept. 17, 1787, when the Philadelphia Constitution Convention signed the United States Constitution.
In honor of the bicentennial of the U.S. Constitution, Drake University was chosen as one of four universities to receive a permanent endowment from Congress to encourage study of the American Constitution. Drake therefore created the Constitutional Law Center.
Mendez, president of the International Center for Transitional Justice in New York City, will present "Transitional Justice: The Dilemma of Pursuing Peace and Justice Simultaneously in an Ongoing Conflict."
An Argentinian advocate, Mendez has devoted his career to the defense of human rights throughout the Americas. His work on behalf of political prisoners of Argentina's military dictatorship in the 1970s resulted in his torture and administrative detention for over a year, during which time Amnesty International adopted him as a "Prisoner of Conscience."
After his release in the late 1970s, he moved to the United States and began work with Human Rights Watch where he became General Counsel. He also has served as director of the Center for Civil and Human Rights at Notre Dame Law School, as president of the Organization of American States Commission on Human Rights and as the United Nations special advisor on the prevention of genocide.
An educator as well as an advocate, Mendez has taught at Georgetown Law Center, the John Hopkins School of Advanced and International Studies and in the Oxford Masters Program in International Human Rights Law.
He has received multiple awards for his work, including the University of Dayton's inaugural Oscar A. Romero Award for Leadership in Service to Human Rights. Mendez is a member of the bar of Mar del Plata and Buenos Aires, Argentina, as well as of the District of Columbia.
He earned his J.D. from Stella Maris University in Argentina, and most recently, a Doctorate Honoris Causa from the University of Quebec at Montreal.
Read more about the Constitutional Law Center online.
For questions regarding the Distinguished Lecture Series, contact Drake Law School at 515-271-2988.