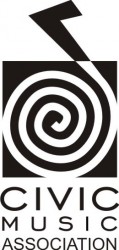 MEDIA CONTACT: Tory Olson, 515-271-1834,
tory.olson@drake.edu
; Carrie Clogg, executive director, Civic Music Association, 515-280-4020,
info@civicmusic.org
The Civic Music Association honored Drake University with an Outstanding Partnership Award Thursday, Sept. 18.
The award was presented to Drake President David Maxwell at the association's 2008-09 season opening concert featuring jazz violinist Regina Carter. The concert was held on Drake's Jordan Stage in Sheslow Auditorium in Old Main, 2507 University Ave.
The Civic Music Association has held half of its concerts at Drake since 2000, when the organization moved half of its concerts from the Civic Center to the Sheslow Auditorium. Due to positive audience and artist response, all concerts were moved to Drake for the 2003-04 season and have continued at the University since then.
"We are very fortunate to have such a thriving partnership with Drake University," said Civic Music Association Executive Director Carrie Clogg. "In addition to hosting our concerts, we partner with Drake for master classes with the guest artists, offer complimentary tickets to a select number of Drake students, provide student internships and we even have a Drake student on our Board of Directors!"
Carter, who is hailed as one of the most popular young violinists in modern music today, has received many rave reviews.
Time Magazine, for example, stated that "Regina Carter creates music that is wonderfully listenable, probingly intelligent and, at times, breathtakingly daring…taking the listener into the future of jazz."
Tickets can be purchased by calling 515-280-4020 or visiting the Web site.
For more information about Civic Music Association, call 515-280-4020 or visit the Web site.