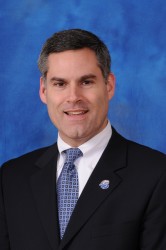 Chris Creighton
MEDIA CONTACT: Lisa Lacher, 515-271-3119, lisa.lacher@drake.edu



Drake University Head Football Coach Chris Creighton will kick off Drake's fall "Let's DU Lunch" series on Wednesday Sept. 10.
This year's series, which is open to the public, will be held at a
new location: inPlay, a family entertainment venue and conference
center at 615 Third St.
The luncheons will start with networking at 11:30 a.m., followed by
lunch and the program at noon. "Let's DU Lunch" is sponsored by the
Drake University Central Iowa Alumni Chapter and the Greater Des Moines
Partnership.
Creighton, who was named the 25th head football coach at Drake last
December, will share his vision for Drake football and give an update
on the season. At that point, the Bulldogs will have played Upper Iowa
and Lehigh.
Creighton compiled a 63-15 record as head coach at Wabash College
in Crawfordsville, Ind., with teams winning four North Coast Athletic
Conference championships, while competing in three NCAA Division III
playoffs. In his 11 years as head coach, he has an overall record of
95-24, including a 32-9 mark as head coach at Ottawa University.
The luncheon series will continue on Wednesday, Oct. 1, with a
speech by Des Moines Register Publisher Laura Hollingsworth and
Executive Editor Carolyn Washburn. Kenneth Quinn, president of the
World Food Prize Foundation, will conclude the fall series on
Wednesday, Nov. 5.
Cost is $17 per lunch or $42 for all three luncheons for those who
register for the entire series by Sept. 3. Reservations are recommended
due to limited seating.
For more information or to make a reservation, contact the Drake
Office of Alumni and Parent Programs at 515-271-3848 or
dottie.johnson@drake.edu.