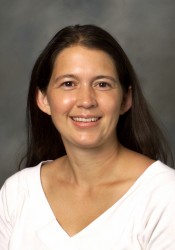 Renee Cramer
MEDIA CONTACT: Lisa Lacher, 515-271-3119, lisa.lacher@drake.edu
Renee Cramer, assistant professor of politics at Drake University, will present "Sharing Community while Interviewing Outlaws: A Conversation about Methodology" on Friday, Sept. 12.
The presentation, which is free and open to the public, will start at 3:30 p.m. in the Honors Lounge of Medbury Hall, 2730 Forest Ave., as part of Drake's Center for the Humanities Colloquium Series.
Cramer received her Ph.D. in political science from New York University. Since joining the Drake faculty in 2001, she has taught courses in race, politics and the law; law, politics and society; reproductive politics; and American Indian law and politics. Her 2005 book, titled "Cash, Color and Colonialism: The Politics of Tribal Acknowledgement," recently was released in a paperback edition.
Professor Cramer's current research project focuses on homebirth midwifery and maps the web of regulation and approbation that
limits women's access to procreative autonomy and choice in childbirth.
In her Friday presentation, she will examine how the key feminist research considerations of reciprocity and reflexivity are critical when participants seek to avoid scholarly contact. She also will explore how forging community ties and friendships as part of the research contribute both to more nuanced and interesting results and to more democratic communities.
For more information, contact Joseph Schenider. director of the Drake Center for the Humanities, at 515-271-2158 or joseph.schneider@drake.edu.