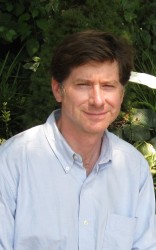 Kieran Williams
Drake University lecturer Kieran Williams, author of "The Prague Spring and its Aftermath Czechoslovak Politics, 1968–1970," is quoted in a BBC Radio story aired today about the Soviet Union's 1968 invasion of Czechoslovakia.
"The Russian government's recent action in Georgia makes this story seem very timely all of a sudden," Williams said. "But an important difference is that in 1968, Czechs and Slovaks ruled out the use of force as futile. Instead, they put all their energies into non-violent civil resistance, to great effect in the short term."
The story can be heard by visiting the BBC Radio Web site and clicking on "Listen to Programme 3."
The story is part of a series of programs the BBC is doing this summer on 1968 — a year of music, love, protests and assassinations.
Williams was interviewed for the story focusing on Czechoslovakia's experiment in "socialism with a human face" and its brutal suppression by the Soviet authorities.
At the beginning of 1968 Alexander Dubcek became Communist party leader in Czechoslovakia. His appointment led to a series of changes, which came to be known as the Prague Spring, during which censorship was relaxed and many Czechoslovaks were able to travel abroad for the first time.
The story includes comments from those who were involved in supporting Dubcek's delicate balancing act and remember the dreadful moment in the middle of August when Soviet tanks rolled into Prague, meeting strong but peaceful resistance.
Williams teaches in Drake's department of politics and international relations. Previously he taught at the School of Slavonic and East European Studies at University College London, the largest institution in the United Kingdom for the study of Central, Eastern and South-East Europe and Russia.
After earning his undergraduate degree at Princeton, Williams received a doctorate in politics at Oxford in 1993, using newly declassified documents to write his dissertation on the events of 1968 in Czechoslovakia. Cambridge University Press published his book on the subject in 1997. More information about the book is available on the Cambridge Web site.
Williams also is co-author of books on the reform of the secret police and of electoral systems in post-Communist countries. He is now working on a study of judicial review of electoral disputes around the world.