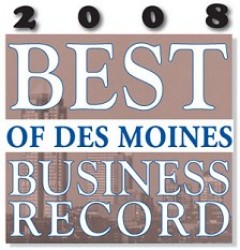 MEDIA CONTACT: Lisa Lacher, 515-271-3119,
lisa.lacher@drake.edu
For the second consecutive year, Drake has been named Best MBA Program in the Business Record's 13th annual Best of Des Moines readers' poll.
"Three years ago our graduate faculty took a hard look at the MBA curriculum and the feedback we were receiving from students and the metro business community," said Danette Kenne, assistant dean of graduate and professional programs in Drake's College of Business and Public Administration.
"They redesigned the program to maintain the identified strengths and complement them with an understanding of sustainability and values and ethics in decision making," Kenne added. "The results have been very well received."
Drake's MBA degree program uses an integrative approach that emphasizes real-world application of knowledge and problem-solving strategies and techniques. Technology and management are incorporated into and across courses. In addition, the program is flexible and is tailored to suit students' goals. It enables students to learn from experienced faculty and successful business leaders.
The MBA is backed by Drake University's full resources and reputation and is fully accredited by the AACSB — the international association for management education.
For more information about Drake's MBA program, visit the College of Business and Public Administration Web site.
The Business Record published the following story about the Drake MBA program in its Aug. 18 issue:



BEST M.B.A. PROGRAM
Drake University
Drake University's College of Business and Public Administration asked for lots of input when it was deciding how to fine-tune its M.B.A. program; now that students have experienced the results and graduated, it's time to gather more opinions.
"We're putting together a feedback survey and focus groups on the program," said Danette Kenne, assistant dean of graduate and professional programs. "We'll ask about their experiences as a whole and where this has been the most beneficial."
Drake has about 215 students enrolled this year in the M.B.A. program. They'll find themselves in a setting that includes small seminars on a variety of nontraditional business subjects. "These seminars give us a chance to talk about topics that might not get exposure in the usual three-hour course," Kenne said. "Last fall, we did one on subprime lending when we were just starting to see the press coverage on that. We have done them on entrepreneurship and office politics.
"We didn't see (similar seminars) anywhere when we came up with it, but now we have seen other programs doing this."
Also, a certification program operated through the Center for Graduate and Professional Studies is linked to the M.B.A. program. "If someone participates in the certification program," Kenne said, "they can apply that experience to the requirements for our M.B.A. program."
Runners-up: University of Iowa; Iowa State University.