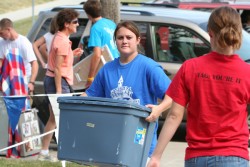 A Drake volunteer helps move first-year students into the renovated dorms.
At 8 a.m. Wednesday, Aug. 20, the first of approximately 900 first-year students began moving into Drake University's renovated Quadrangle Complex at 30th Street and Forest Avenue.
The northwest corner of the Drake campus was a beehive of construction activity this summer as The Weitz Co. and its subcontractors renovated Carpenter and Herriott Residence Halls in just 13 weeks. There were 200 workers on site during the busiest phases of the project.
The previous summer, Weitz finished the renovation of the other two halls in the complex — Stalnaker and Crawford — in 14 weeks.
"The first summer was a real challenge, but we kept track of all the lessons learned in 2007 so we could apply them in 2008," said Bob Andersen, Weitz vice president/construction manager. "Those lessons learned — and we had a list of at least 45 of them — have made everything go more smoothly this summer."
The $20 million renovation, designed by Baldwin White Architects P.C. of Des Moines, includes the following features in all four of the halls:
Air-conditioning
Double-glazed windows for improved insulation and sound resistance
Expanded bathrooms and laundry rooms
Upgraded student rooms, social rooms and common spaces with new furnishings
The addition of high-tech classrooms
Wireless Internet access in every room
Handicap-accessible elevators
Sprinkler systems for fire safety
New interior paint, carpeting and doors
Fresh brick and mortar on the exterior
"The new dorms are so nice," said Alise Farrell, a first-year student from Davenport, Iowa, as she settled into her room in the renovated Crawford Residence Hall. "I'm impressed how they turned out. I'm looking forward to meeting new people, experiencing new things and just being away from home."
Internationally renowned architects Eliel and Eero Saarinen, who also designed the St. Louis Arch, originally designed the four residence halls in the Quad. Weitz served as general contractor for the halls, which were built in the 1950s.
The Saarinen firm went on to design a total of nine buildings for Drake, including a science building, pharmacy hall, dining hall and a divinity school building and a chapel.
The impact of the Saarinen structures will be assessed in an exhibition this fall at Drake's Anderson Gallery.
The exhibit, which opens Nov. 7, is titled "Building a Modern Campus: Eliel and Eero Saarinen at Drake University." The exhibit, which will involve students from several classes, will document the Saarinens' work at Drake, provide comparisons with other Saarinen projects and feature the reconstruction of a typical dorm room from the 1950s.