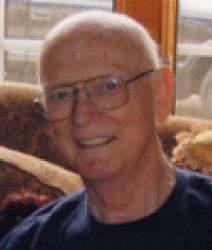 R. Dean Wright
R. Dean Wright, the Ellis and Nelle Levitt professor emeritus of sociology at Drake University, died Friday, Aug. 15, after a year-long battle against cancer of the bladder. He was 69.
A memorial service will be held at 1 p.m. Friday, Aug. 29, in Sheslow Auditorium in Old Main, 2507 University Ave. A reception will follow from 1:30 to 3 p.m. in Levitt Hall in Old Main.
Hamilton's Funeral Home is handling the arrangements. To send a message of condolence, please visit Hamilton's Web site.



To view additional photos of Wright, please visit the online gallery.
Wright, an internationally renowned scholar, was best known locally for his tireless community service and for teaching generations of students about poverty, homelessness and crime.


Teaching lessons under the bridges of Polk County
His lessons weren't limited to the classroom, however. He often invited his students to join him before dawn in helping the Salvation Army serve breakfast to homeless people living under bridges, in abandoned houses and on the streets of Des Moines.
"A lot of people believe that homelessness is a natural condition," Wright told the Des Moines Register in 1994. "I believe it's an unnatural condition, one that we have imposed upon people."
Through their first-hand encounters with homeless people, the students came to understand that homelessness is an intractable problem with causes far more complex than simply bad personal choices, bad people and bad luck.
"Sitting with a person under a bridge or in the woods near the river bank, sharing a cup of coffee and talking about their lives, at least that part that they were willing to share, brought the opportunity for understanding what those who had never been there could not share," Wright said as part of his Paul Morrison Relays Lecture in 2001. The lecture was titled "Under the Bridges of Polk County: A Laboratory for Teaching and Research."
Wright represented the highest ideals of Drake in its community outreach
"Dean Wright was the model for what it means to be a faculty member at Drake University," said Drake President David Maxwell. "He was a superb teacher and mentor for our students, an internationally recognized scholar and a highly respected faculty leader. . . . Dean's passing leaves a huge hole in the fabric of Drake University, in central Iowa and in our hearts."
"He will be remembered as a professor who cared deeply for students, a person who applied his discipline in the community, a mentor who provided helpful advice to many young faculty members," Drake Provost Ron Troyer said. "His most important legacy is the remarkable impact he had on the thousands of students who took his classes. He will be greatly missed."
Read more comments about Wright from his colleagues and notable community and state leaders online.
Wright joined the Drake faculty in 1971 after earning his bachelor's and master's degrees from Pittsburgh State University and his Ph.D. from the University of Missouri at Columbia. He moved rapidly through the academic ranks to full professor and served as chair of the sociology department and director of the criminal justice program.
His scholarly work encompassed a wide array of subjects, including poverty and homelessness, throw-away kids, juvenile crime, alternatives to incarceration, the sociology of punishment and the Anglo-Indian Community, a topic he first explored as a Fulbright scholar in India.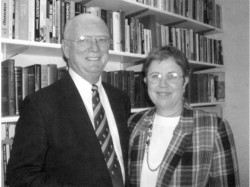 Dean and Susan Wright were honored for their contributions to the Midwest Sociological Society in 2002.
'The right stuff' for partnership at home and work
His wife, Susan, began teaching at Drake after completing her doctorate in sociology at Iowa State University. She went on to chair the sociology department and served as dean of the College of Arts and Sciences before assuming her current post as associate provost.
The couple collaborated on many projects, including studies of the homeless throughout Iowa. Both were leaders in the Midwest Sociological Society, which honored them in 2002 with the creation and dedication of the Wright Garden near Howard Hall on the Drake campus.
Although Wright retired in 2004, he continued to teach classes through 2005 and also served as an instructor in Drake's RaySociety, which promotes lifelong learning. Retirement gave him the opportunity to spend more time with his wife; his son and daughter-in-law, Ehren and Michelle Stover-Wright; and his grandchildren, Aiden and Ella.


Reaching far beyond the ivory tower of academia
A prolific writer throughout his career, Wright produced more than 50 articles published in professional journals and was the author or co-author of numerous books. His most recent books reflect his intense interest in using academic research and expertise to help solve real-world problems.
"Applying Sociology: Making the World a Better Place," was published in 2001. His final book, released in 2007, is titled "Politics in the Human Interest: Applying Sociology in the Real World."
In his quest to make the world a better place, Wright co-chaired an effort to fund a local homeless youth center and co-chaired community focus projects for United Way of Central Iowa and Polk County. He also embraced leadership roles in numerous community, state, regional and national boards and commissions. His service included:

Chair of the Board of the Greater Des Moines Salvation Army
Chair of the Iowa Criminal and Juvenile Justice Advisory Council for 14 years
Member of Attorney General Tom Miller's Task Force on Juvenile Justice
Chair of Attorney General Bonnie Campbell's Blue Ribbon Task for on Sentencing
Chair of Gov. Terry Branstad's Task Force on Homelessness
Original Board Member of Urban Dreams in Des Moines
Member of the Des Moines Area Religious Council Foundation Board from 2000-2003 and chair from 2003 to 2007

Chair of Compassion in Action for the Des Moines Area Religious Council
"Compassion in Action" is an apt description of Wright, who received dozens of awards for his exemplary and extraordinary volunteer service. Among these honors were:

Induction into the Iowa Volunteer Hall of Fame
The Midwest Sociological Society Distinguished Service Award
The Iowa Community Action Association's Partnership Award
The Amnesty International Humanitarian Award for Public Service
The Governor's Outstanding Volunteer Award for his study of Iowa's homeless children and homeless families
The Madelyn M. Levitt Distinguished Community Service Award at Drake University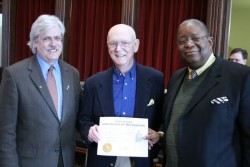 Legislators Jack Hatch, left, and Wayne Ford congratulate Dean Wright at the State Capitol.
Iowa legislators paid tribute to Wright last spring
Last spring, the Iowa Legislature honored Wright for his "lifetime of achievement and dedication to social justice, which have made Iowa a better place for us all."
The House of Representatives presented Wright with a Certificate of Recognition for his "commitment to teaching and activism; as well as showing a commitment to social activism, justice and community service."
The Senate also recognized Wright and his family, noting that he has "conducted his life and work in partnership with his wife, Susan Wright, and with his son and daughter-in-law, Ehren and Michelle Stover-Wright, and grandchildren, Aiden and Ella."