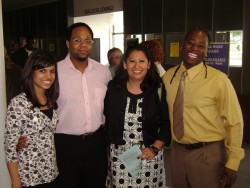 Program graduates Sonal Khokhari, Darin Henry and Noemi Mendez with Eric Johnson, assistant professor of education.
First participants of teacher-enhancement program begin teaching this fall
By Emilee Richardson
Five participants of the Teacher Quality Project (TQP) graduated from Drake University this May and, in the fall, will return to the classroom as teachers, not students.
All five inaugural graduates have accepted positions in Des Moines Public Schools.
•
Praveen Bannikatti, social studies, North High School
•
Darin Henry, social studies, Future Pathways program
•
Olivia Howe, English language learners, Lincoln High School and Scavo Campus
•
Sonal Khokhari, math, Goodrell Middle School
•
Noemi Mendez, kindergarten, McKinley Elementary School
"The TQP is an excellent opportunity for Des Moines Public Schools to respond to the growing diversity while also improving future teacher quality and, in turn, improving student academic achievement," explained Eric Johnson, assistant professor of education at Drake.
In Des Moines, nearly 30 percent of students are minorities, yet fewer than two percent of teachers have minority status.
This August, Noemi Mendez, 32, will begin teaching kindergarten at McKinley Elementary, which has a large Latino demographic. She feels that her Mexican heritage will help her better reach the students.
"Having diverse teachers is very important," said Mendez, who is fluent in Spanish and English. "Many of the students beginning kindergarten at McKinley come with very little or no English, but because I am bilingual, I will be able to teach them more effectively."
Students in the program are provided tuition, books, a laptop computer and childcare, but must agree to teach in Des Moines Public Schools upon receiving their Iowa teaching license. They commit to teach in Des Moines one year for every year they participate in the program. In fact, students are hired even before they begin taking classes.
"It's a win-win situation," said Mendez. "I was going to be working in Des Moines regardless, but through the program, my tuition was paid and I had a guaranteed teaching position."
Partnership program brings high quality, diverse teachers to Des Moines public schools
Drake University teamed with Des Moines Public Schools and Des Moines Area Community College to create a program that aims to increase diversity in Des Moines' future teachers.
The Teacher Quality Program began in the spring of 2006 as a joint effort to increase the number of high-quality teachers of color in schools that enroll large numbers of low-income students from ethnic minority groups. Through the program, students may work toward completion of their bachelors or masters degrees.
The program's goals include supporting minority teacher recruitment, funding forgivable loans and other supports and creating four professional development schools that will become demonstration sites for quality urban education.
The program is funded by a $2.7 million federal grant through the U.S. Department of Education's Teacher Quality Enhancement Recruitment Program. Candidates must be U.S. citizens or permanent residents.