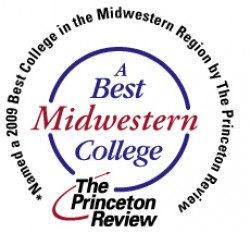 MEDIA CONTACT: Lisa Lacher, 515-271-3119,
lisa.lacher@drake.edu
Drake University is one of the best colleges and universities in the Midwest, according to The Princeton Review. The New York City-based education services company selected the school as one of 159 institutions it recommends in its "Best in the Midwest" section on its Web site feature "2009 Best Colleges: Region by Region."
"We commend all of the schools we name this year as our 'regional best' colleges primarily for their excellent academic programs," said Robert Franek, Princeton Review's vice president of publishing.
"We selected them based on institutional data we collected from several hundred schools in each region, our visits to schools over the years and the opinions of independent and high school-based college advisers whose recommendations we invite," he added. "We also take into account what each school's customers — their students — report to us about their campus experiences at their schools on our 80-question student survey."
The 159 colleges The Princeton Review chose for this year's "Best in the Midwest" designations are located in 12 states: Iowa, Illinois, Indiana, Kansas, Michigan, Missouri, Minnesota, Nebraska, North Dakota, Ohio, South Dakota and Wisconsin. The 630 colleges named "regional best(s)" represent only about 25 percent of the nation's 2,500 four-year colleges.
The Princeton Review survey for this project asks students to rate their own schools on several issues — from the accessibility of their professors to quality of the campus food — and answer questions about themselves, their fellow students, and their campus life. Comments from surveyed students pepper each Princeton Review college profile on its site. The Drake profile is available online.
Some student comments quoted in the profile on Drake are:
Des Moines is "a great city because it offers many opportunities for Drake students to get involved in activities that complement your learning experiences."
"Drake's Student Activities Board, as well as several other on-campus organizations, offers many programs and things to do throughout the week and during the weekend as well.
As with any college, there are parties to attend on the weekends, but it's not limited to that — basketball games are a really big campus event and the Rake Relays are always fun too!" The Princeton Review is a New York-based company known for its test preparation courses, books, and college admission and other education services. It is not affiliated with Princeton University and it is not a magazine.