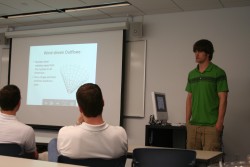 Jordan Mirocha presents possible explanations of velocities within active galactic nuclei.
Twelve students have been researching subjects ranging from molecular dynamics to high-energy galactic behaviors to the effects of cocaine withdrawal on memory as part of Drake's summer undergraduate research program.
The students recently presented their final projects during the conclusion of the 2008 Drake Undergraduate Science Collaborative Institute (DUSCI) Summer Undergraduate Research Program.
"The students are challenged to learn at a level of a graduate student in the sense that they are expected to obtain publishable results and present their work using a national conference format," explained professor Maria Bohorquez, DUSCI director. "Their research projects challenge them, and their reward is not a grade; it is the discovery of new knowledge."
Research encompasses cluster computing, firing of electrons
Creston Flemming, a junior biochemistry and molecular biology major, presented his computer science research, which focused on developing computer models and visualizations of biological and chemical structures.
Typically, the mathematical computations require the use of supercomputers, but Drake uses a system called cluster computing — 18 computers are linked to generate the same amount of power.
"In today's world of ever-shrinking budgets, a method for increasing computing performance without spending hundreds of thousands of dollars is very appealing," said Flemming. "Our cluster uses recycled computers to do just that, as well as help lower the university's waste output."
Paul Wiecki, a senior physics major, plans to continue his physics research, in which he fires high-energy electrons into a molecule. He said he hopes to present additional results of his research at the American Physical Society's Nuclear Physics Conference in Oakland, Calif., this October.
Two Drake students collaborate with high school students
A team of two Drake students and two East High School students also collaborated on a chemistry project that tested the absorbance and fluorescence of dyes.
East High School students Carolina Chavez and Ziola Sarmiento worked through a program called Project SEED, which encourages economically disadvantaged students and underrepresented groups to explore chemistry as a career option.
Flooding delays primate project
In addition, three Drake students participated in research at the Great Ape Trust of Iowa this summer, thanks to a new partnership between Drake and the trust.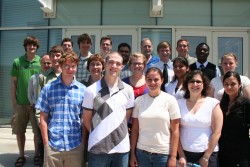 Students and faculty who participated in 2008 DUSCI Summer Undergraduate Research Program. (Not pictured: Faculty members Thomas Rosburg, Robert Shumaker, Craige Wrenn, Charles Nelson and Gholam A. Mirafzal)
More about the participants and program
The following students and faculty members participated in the DUSCI Summer Undergraduate Research Program:
•
Greg Farris, of Centennial, Colo., Jackie Mobley, of Davenport, Iowa, and Anna Rice, of Mahtomedi, Minn., worked with Thomas Rosburg, associate professor of biology, and Robert Shumaker, university fellow and director of orangutan research at Great Ape Trust.
•
Creston Flemming, of Greenwood, Wis., worked with Tim Urness, assistant professor of computer science.
•
Kelly Ippolito, of Des Moines, worked with Maria Valdovinos, assistant professor of psychology, and Craige Wrenn, assistant professor of pharmacology.
•
Ryan Johnson, of Des Moines, Samuel Nkrumah-Agyeefi, of Ghana, with Carolina Chavez and Zoila Sarmiento, of Des Moines East High School, worked with Mark Vitha, associate professor of chemistry.
•
Kory Kreimeyer, of Adair, Iowa, and Jordan Mirocha, of Minnetonka, Minn., worked with Charles Nelson, assistant professor of physics and astronomy.
•
Sean Moorhead, of Coralville, Iowa, worked with Gholam A. Mirafzal, associate professor of chemistry
•
Ankit Patel, of Schaumburg, Ill., worked with William Klipec, associate professor of psychology.
•
Paul Wiecki, of Madison, Wis., worked with Athan Petridis, associate professor of physics and astronomy.
Participants in the Summer Undergraduate Research Program seek an adviser and submit an application and research proposal for the program that includes details on their topic and project plans. The program is eight weeks long and students work full-time Monday through Friday.
The final presentations cover many fields, including psychology, chemistry, physics, astronomy and computer science.