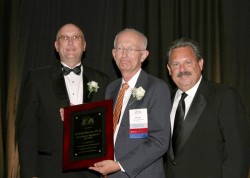 Rick Morrow, 2007-08 IPA President Jay Currie, and Tom Temple, IPA's executive vice president.
Faculty, student receive awards from Iowa Pharmacy Association
Three Drake professors and a fourth-year pharmacy student recently received awards from the Iowa Pharmacy Association (IPA). The awards were presented at the Association's 2008 Annual Meeting Banquet in Des Moines on June 21.
"Professional involvement is a hallmark of the College of Pharmacy and Health Sciences at Drake University," said Raylene Rospond, dean of the college. "These awards are a well-deserved recognition of this commitment on the part of our faculty and students."
Richard Morrow — Honorary President Award
Richard Morrow, GR'83, the Ellis and Nelle Levitt distinguished professor of pharmacology, received the 2007-2008 Honorary President Award. IPA's Honorary President is selected annually to recognize a lengthy and sustained commitment of support for its association and the profession of pharmacy in Iowa.
As a part of this award's recognition, Morrow will serve a one-year term on the IPA Board of Trustees as honorary president.
Morrow joined Drake's faculty more than 35 years ago. He has served as interim dean three times throughout his career.
"Morrow has taught and mentored hundreds of student pharmacists throughout his tenure at Drake University," Rospond said, "as well as hundreds of pharmacists across the state and nation."
He also has held several positions as a member of the IPA and has been involved in numerous professional groups.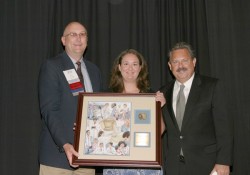 Anisa Fornoff (middle), 2007-08 IPA President Jay Currie, and Tom Temple, IPA's executive vice president.
Anisa Fornoff — Innovative Pharmacy Practice Award
Anisa Fornoff, PH'02, assistant professor of pharmacy practice, received the Innovative Pharmacy Practice Award. This annual award recognizes pharmacists in each state who have demonstrated innovative practice activities, which result in improved patient care.
Award recipients receive a limited edition, framed piece of original artwork and medallion. In addition, the recipient's name will be included on a plaque that is permanently displayed in the IPA offices.
Fornoff has developed a pharmacy practice to address the needs of those with mental or physical disabilities or diseases. She trains staff how to properly administer medications, monitor for adverse side effects and use the practice's equipment. She also provides educational materials for patients.
Rospond described Fornoff as a role model. "[Her] practice is a model for students in how pharmacists can impact the care of patients with intellectual and physical disabilities."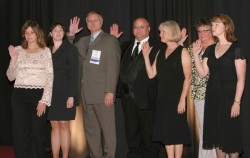 New IPA Board of Trustee members Carrie Koenigsfeld, Christine Donner-Tiernan, Gary Albers, Bob Stessman, Julie Kuhle, Alice Steig, Lisa Mascardo are installed at IPA's Annual Meeting
Carrie Koenigsfeld — IPA Board of Trustees
Carrie Koenigsfeld, associate professor of pharmacy practice, was installed as a trustee on the IPA Board of Trustees.
She works as a clinical pharmacist at Lakeview Internal Medicine Clinic in West Des Moines and joined Drake in 1999.
She has written several peer-reviewed papers on a variety of topics and actively participates in clinical research.
Koenigsfeld also was selected as the Faculty Preceptor of the Year by CPHS in 2004 and was named Distinguished Young Pharmacist of the Year by the IPA in 2007.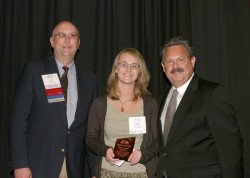 Emily Nufer (middle), 2007-08 IPA President Jay Currie, and Tom Temple, IPA's executive vice president.
Emily Nufer — Karbeling Leadership Award
Emily Nufer, a fourth-year pharmacy student from Niles, Ill., received the IPA's Karbeling Leadership Award. The annual award honors Jerry Karbeling for his leadership and dedication to the profession and student involvement in professional associations and politics. Karbeling was a 1974 Drake pharmacy graduate and an involved alumnus who died in 2005.
The award recognizes a student from each of Iowa's two colleges of pharmacy for their individual leadership and involvement.
Nufer is pursing an MBA along with her Doctor of Pharmacy degree. She is an active member in student pharmacist organizations and served as the 2006-07 Drake student liaison to the IPA Board of Trustees.
On IPA's 2008 Legislative Day this spring, Nufer attended and helped organize health screenings for legislators. She participated in the Donald V. Adams Leadership Institute and served as a representative on the Dean's Student Advisory Council.
Faculty enjoy involvement with IPA