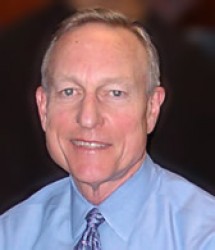 Ronald Olson
Alumnus' firm earns top spot in national elite law firm rankings
Drake alumnus Ronald Olson's Los Angeles law firm Munger, Tolles & Olson LLP recently took first place in the American Lawyer magazine's national elite law firm rankings.
This marks the firm's fourth appearance in the top-10 of American Lawyers' "A-List," including its third place rankings in 2004 and 2007. It also is the first time a California-based firm won first place.
"Like college football, the number one ranking can be disputed, but it sure feels good for all of us at Munger, Tolles & Olson," said Olson, BN'63, who played football for the Bulldogs.
"And, like my football experience at Drake, the law firm operates as a team where support for each other is a high value," he added. "My law firm colleagues and clients have allowed me to continue on a lifelong learning experience that was significantly inspired by my four years at Drake University."
MTO scored high in associate satisfaction and pro bono commitment, which launched the firm to the top of the rankings.
The "A-List" scores firms based on four weighted core professional values. MTO's scores in these categories were:
•
Revenue per lawyer, $1.14 million
•
Pro bono practice, 88.6 hours per attorney
•
Associate satisfaction, 188/200
•
Workplace diversity, 187/200
According to The American Lawyer, the "A-List" ". . . isn't just a report card on firm statistics. It's a measure of how well firms balance moneymaking with the priorities of service and collegiality that used to distinguish the legal profession."
As a lead partner at MTO, Olson has represented companies including Warren Buffett's Berkshire Hathaway for which he serves on the board of directors. He also has directed Yahoo! Inc. during its most recent merger talks with Microsoft Corp.
Olson, 67, also serves non-profits including the RAND Corp., the Mayo Clinic, the Council of Foreign Relations, Southern California Public Radio and the California Institute of Technology.
In 1968, he joined MTO after working as an attorney for the Civil Rights Division of the Department of Justice. He also clerked for Chief Judge David L. Bazelon, United States Court of Appeals for the D.C. circuit.
Besides his degree from Drake, Olson also holds a J.D. degree from the University of Michigan and a Diploma in Law from Oxford University.