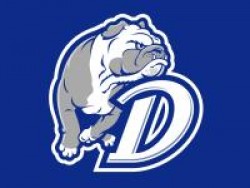 Drake trio named to All-American Scholar Women's Golf Team
CORAL SPRINGS, FLA. — Drake's Olivia Lansing (Dellwood, Minn.), Elena Vukmir (Wauwatosa, Wis.) and Michelle Mathwick (Greenfield, Wis.) have been named to the 2007-08 National Golf Association All-American Scholar Team.
The criteria for selection to the All-American Scholar Team are some of the most stringent of all college athletics. The minimum cumulative grade-point average is 3.50 and student-athletes must have competed in at least 50 percent of their team's matches.
Lansing, who is a graphic design and magazine major, captured individual honors at the 2008 Missouri Valley Conference Championship with a 77-73-77=227. She carded a 77.9 stroke average in 13 matches this past spring
Mathwick is a pharmacy major, while Vukmir is a marketing and management major. Vukmir had an 82.2 stroke average, while Mathwick had an 84.2 average.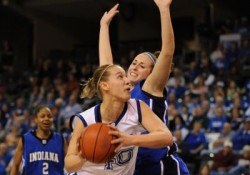 Martin signs professional contract to play in Ireland
Former Drake women's basketball star Jill Martin (Norwalk, Iowa/Norwalk) has recently signed a professional contract to continue her basketball career with the DCU/Mercy Basketball Club in Dublin, Ireland.
She will be playing in the Superleague, which is Ireland's top division. Her squad, which includes former Iowa State standout Mary Fox, finished second in the league last season with a 15-3 mark en route to advancing to the Superleague finals where it dropped a 67-56 decision to Team Montonette Hotel.
"I'm excited about the opportunity to continue doing something that I truly love to do," Martin commented. "I think Dublin is going to be the best fit for me coming out of college to continue my career in basketball, I have had numerous conversations with Mark (Ingle), the head coach for DCU/Mercy and I feel extremely comfortable with the situation."
Martin departs for Ireland in September and will remain overseas throughout the duration of the Superleague season, which runs from October through March.
A 2008 first team All-MVC selection, Martin turned in the best offensive campaign of her career, registering team highs in scoring (16.8) and rebounding (9.1) in helping spark the Bulldogs to their first regular season Missouri Valley Conference title since the 2000-01 campaign.
In 34 games, she ranked 43rd and 69th nationally in points per game and rebounds. Martin became the fifth 1,000-rebound player in Drake history when she surpassed the plateau with a career-best 16-rebound performance versus Green Bay on March 22. She finished among the MVC leaders in six statistical categories.
"I'm excited that everything happened the way it did during my college career as it allowed me to finish my degree at Drake, so there was no worry about coming back to finish my education if I'd continued playing for a few years overseas," Martin explained.
"I'd like to thank a lot of people at Drake for their support in helping me get to this point," she added. "The coaching staff has been great as they all helped me during this process. Most importantly, my family and friends, who have been tremendous in helping me reach this decision."
Bulldog Corn Feed set for Aug. 25
Reservations are now being accepted for the annual Drake
Athletic Department Bulldog Corn Feed, which will be held at 5:30 p.m. Monday,
Aug. 25 at the Drake Knapp Center.
Football coach Chris Creighton, along with Drake
basketball coaches Amy Stephens and Mark Phelps, will preview their respective
seasons following the dinner.
The event, which has been held since 1964, is open to the
public.
Cost is $25 per person and can be paid either in advance or
at the door. Fans are encouraged to make their reservations by email at
bulldog.rsvp@drake.edu or by calling 515-271-2889 no later than Aug. 19.