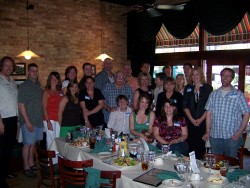 Drake theatre arts alumni gather 'round Doc
In June, Linda Robbins Coleman, FA'76, and William S.E. "Doc" Coleman, professor emeritus of theatre arts, gave nearly 50 Drake theatre arts alumni a great reason to get together in Chicago. Every generation of Drake theatre arts alumni from Professor Coleman's tenure at Drake — 1966 through 2000 — was represented. "It was a real trip down memory lane," he said.
From left to right, front row: Linda Robbins Coleman, Molly Kirk, Julie Burt Nichols; second row: Jessica Remis Moran (black shirt), Mickie Pascal Frellick, Professor Coleman, Julie Norris Westrom, Michael Mitchell, Judy Mencken, Kate Kreissel, Karen Peterson Thelman, Ryan Magnuson; back row: Scott Cooper, Ross Froelich, Jodi Hull, Ann Swisshelm, Cory Fowkes, Seth Kramer, Jeffrey Launius, J. Geneske, Mike Kreissel, Anthony Martinez.
Got photos from your gatherings with fellow Drake alumni? Send them to Barb Dietrich Boose, director of alumni and parent programs, at
barbara.boose@drake.edu
.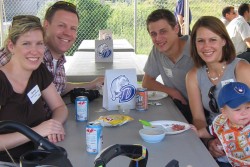 Sandy Peterson Maxwell, AS'98; Clark Maxwell, AS'94; Erik Bilstad, JO'99; Angie Van Caster Bilstad, JO'98; and Noah Bilstad.
Share your favorite Drake photos and memories
More than 50 Drake alumni and friends enjoyed a pre-game picnic and then cheered the Schaumburg (Ill.) Flyers to victory over the Kansas City T-Bones July 26. In the photo from left are: Sandy Peterson Maxwell, AS'98; Clark Maxwell, AS'94; Erik Bilstad, JO'99; Angie Van Caster Bilstad, JO'98; and Noah Bilstad. Not shown is five-week-old Piper Maxwell.
We want to see photos of your favorite Drake memories and get-togethers, too. Send us your personal snapshots of the Drake moments you treasured most and we'll publish them in the Drake alumni scrapbook program, sponsored by the Drake National Alumni Association. Your pics will be included in a lively online photo gallery and may be printed in Drake publications like Drake Blue, the University magazine.
What to submit:
Prints or digital photos (digitals should be 4×6-inch jpgs taken at high resolution).
Short descriptions of the images and names of folks pictured.
A self-addressed, stamped envelope if you'd like us to mail back your prints.
How to send your pictures:
Upload your photos online at www.flickr.com/groups/drakealumniscrapbook
E-mail your photos to alumni.scrapbook@drake.edu
Mail a CD or photo prints to:
Drake University Office of Marketing & Communication
By providing Drake your photographs, you are granting the University permission to use them for various print and online marketing efforts.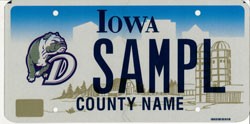 Drake logo license plates available
Show your Drake spirit everyday with new Iowa license plates sporting the Bulldogs logo (as pictured). The first 500 plates must be ordered through Drake to be produced, so please order now. Orders must be received by Monday, Sept. 1.
To order Drake logo license plates, please follow these directions:
1. Download and fill out the online application form
2. Include a check for $50 payable to Drake University
3. Mail the order form and check to:
Drake License Plate


C/O Student Accounts


Drake University


2507 University Avenue


Des Moines, Iowa 50311-4505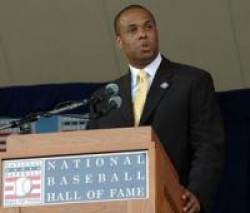 "My father's legacy is a message of hope and courage," Tony Whiteside said as he accepted the award on behalf of his father, Larry W. Whiteside.
Drake graduate honored by Baseball Hall of Fame
COOPERSTOWN, N.Y. — For the second straight year a Drake graduate was enshrined into a major sports Hall of Fame, being recognized for his media contributions.
Larry Whiteside, a 1959 graduate, was posthumously awarded the J.G. Taylor Spink Award, presented annually during the Baseball Hall of Fame induction ceremonies Sunday.
The award honors meritorious contributions to baseball writing. Whiteside began a 45-year journalistic career at The Des Moines Register from 1957-59 before stints in Kansas City, Milwaukee and Boston.
Longtime Phoenix Suns announcer Al McCoy, a 1954 graduate of Drake, received the Curt Gowdy Media Award during the Naismith Memorial Basketball Hall of Fame ceremonies Sept. 7, 2007.
Tony Whiteside accepted the J.G. Taylor Spink Award on Sunday for his father, Larry Whiteside, who died last year.
The younger Whiteside spoke eloquently and admirably in honoring a journalist whose influence was felt beyond his readership.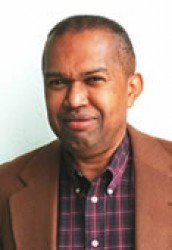 Larry W. Whiteside
Larry W. Whiteside was the 59th recipient of the award, and the third African-American, behind Wendell Smith in 1993 and Sam Lacy in 1997.
A respected reporter who spent 31 years of his career with The Boston Globe, Whiteside made it easier for other African-Americans to follow. In 1971, he assembled and circulated among editors a database of qualified black journalists. At the outset, The Black List had nine names; by 1983, it numbered more than 90.
Born in Chicago on Sept. 19, 1937, "Sides" also worked at the Kansas City Kansan and Milwaukee Journal Sentinel. He covered Hall of Famers Hank Aaron, Eddie Mathews and Warren Spahn with the Braves before the franchise moved to Atlanta, following the 1965 season.
When Whiteside moved into the Boston Red Sox beat in 1973, he became the only black reporter regularly covering Major League Baseball for a major daily.
In 1980, having met the 10-years-on-the-beat qualification, he became the first black Hall of Fame voter.
"Indeed, my father's legacy is a message of hope and courage," Tony Whiteside said Sunday. "While it is tempting to view my father's career strictly through the prism of race, he didn't see things that way. He was a hard-working journalist, and a baseball man above all else.
"And he earned the respect of others as a talented writer, colleague and friend."
As Red Sox beat writer in 1986, he authored the game story on the team's heart-wrenching and ignominious collapse in Game 6 of the World Series against the New York Mets.
He wrote of that fateful Saturday night at Shea Stadium: "The Miracle Mets have returned to Shea Stadium. And the demons of 68 years' worth of failure will haunt the Red Sox for at least another day."
When Tony Whiteside finished his speech, master of ceremonies George Grande thanked the younger Whiteside.
"Tony, you fill those shoes just fine," Grande said. "Pop's up there watching, and he's proud."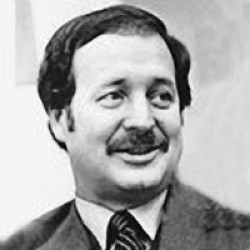 Kenneth A. Macke
Alumnus, former trustee Kenneth A. Macke dies
Drake University alumnus and former trustee Kenneth A. Macke, BN'61, who was chairman and CEO of Dayton Hudson Corp. from 1984 to 1994, died from complications associated with Parkinson's disease.
Macke, who died June 28 near his home in Napa, Calif., was 69. He had served on Drake's governing board from 1979-80 and from 1990-91.
A native of Carroll, Iowa, Macke began his retail career as a shoe salesman at age 15. He attended Drake on a football scholarship and graduated with a bachelor's degree in business.
He then joined Dayton's as a merchandise trainee, which led to a 33-year career in retailing as Macke rose through the ranks to head merchant positions at Dayton's and Target.
During his decade as president, CEO and chairman of Dayton Hudson Corp. beginning in 1981, the company grew from 350 stores to 909 stores in 33 states and revenues more than doubled to over $19 billion.
Macke was named by many publications and groups as one of America's best managers.
While CEO and then chairman of Target, the company grew from 49 stores in 9 states to 137 stores in 16 states and became the corporation's top profit-maker.
Macke also was:
•
director of the Walker Art Center and the Urban Coalition of Minneapolis
•
chair of the 1989 United Way annual campaign
•
chair of the board of the Greater Minneapolis United Way
After his retirement in 1994, Macke and his wife, Kathy, moved to the Napa Valley and continued to mentor retail entrepreneurs.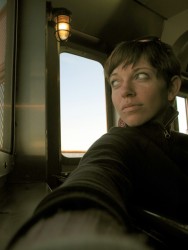 Cat (Hall) Rocketship
Cat (Hall) Rocketship's art lives up to her one-of-a-kind name, which she chose as her professional name to remind herself not to take life and art so seriously.
"Having a name like Rocketship reminds me to keep things loose," said the 2007 Drake fine arts graduate. "I'm very serious about my art and the quality of my work, but I don't want to get wrapped up in being a dour, serious artist. It makes it very clear that art should always be fun for me, even if my subject is somber."
And her fun and amusing art is exactly why she was selected as an Emerging Iowa Artist in the recent Des Moines Art Festival, which was ranked in the 2008 "Top 10 Fair & Festival" by AmericanStyle Magazine. The festival also took seventh place among 300 art festivals in artist sales in the 2007 ArtFair SourceBook.
"I am very proud to represent Drake as an Emerging Iowa Artist," she said. "The entire experience was great. The exposure was amazing, and I made a lot of new contacts both with other artists and art shoppers."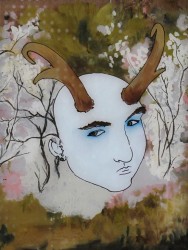 Natural Habitat, oil on glass, 9×12 inches.
She says she is inspired to create through everyday experiences. "TV shows, movies, random things on the Internet, books, graphic novels, science news and biological forms all inspire my work," she explained. "All of these sources and ideas collide in my head and eventually come out in weird ways."
Rocketship of Norfolk, Neb., uses oil paint on glass, wood and foil, employing bright colors and bold outlines. Her pieces contain amusing and narrative elements that tell a story and leave room for discovery.
"It is really fun to see how much my art makes people smile and laugh," she said of people's reactions to her art. "I really like it when my paintings make people happy."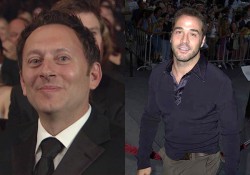 Michael Emerson and Jeremy Piven
Two alumni nominated for Primetime Emmy Awards
Michael Emerson, FA'76, and Jeremy Piven, FA'85, have been nominated for 60th Annual Primetime Emmy Awards.
Emerson was designated as an Outstanding Supporting Actor in a Drama Series for his role as Ben Linus in ABC's "Lost." Other actors in that category include: Ted Danson and Zeljko Ivanek of Fox's "Damages," William Shatner of ABC's "Boston Legal" and John Slattery of AMC's "Mad Men."
Known for his acting in theatre, TV productions and films, Emerson has starred in TV shows such as "The X Files" and movies including "Saw" and "The Legend of Zorro." Emerson also has performed on Broadway and in numerous plays for theatre.
Piven, who plays Ari Golf in HBO's "Entourage," was nominated as Outstanding Supporting Actor in a Comedy Series. Other nominees include: Jon Cryer of CBS's "Two and a Half Men," Kevin Dillon of HBO's "Entourage," Neil Patrick Harris of CBS's "How I Met Your Mother" and Rainn Wilson of HBO's "The Office."
Piven also is a film actor and has appeared in numerous movies including "PCU," "Runaway Jury" and "Serendipity."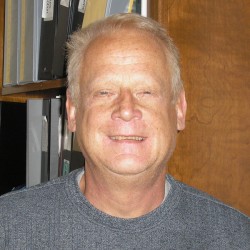 Stephen Higley
Alumnus explores racial integration in nation's wealthiest neighborhoods
By Michelle Thilges, JO'08
Stephen Higley, LA'71, was curious. He wanted an answer to the question: "Where are the people who are living the American dream located?"
The census data showed that those living in the wealthiest neighborhoods are predominately non-Hispanic Caucasians.
"I was really interested in this because of my idealization for racial integration and my curiosity about how integrated the wealthiest neighborhoods are," said Higley, a geography professor at the University of Montevallo in Montevallo, Ala.
The census clusters cities into tracking numbers to define areas of each city. Higley looked through the clusters and found the wealthiest neighborhoods, and now believes this is the first time someone has identified these clusters.
His Web site will be updated with the 2010 census and that information will be released a few years later to see if any of the statistics have changed.
"African Americans will be the most interesting group to watch," Higley said. "Wealthy African Americans, for whatever reason, are incredibly underrepresented in the wealthiest neighborhoods. They are better represented in the urban areas."
His goal for the Web site is for people to have a standard resource when they are looking for information about integration in neighborhoods. In the future, he would like to have others contribute articles about integration in the United States.