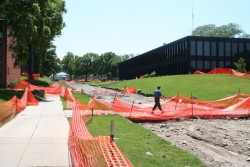 A pedestrian carefully crosses the 28th Street corridor near Forest Avenue.
CONTACT: Lisa Lacher, 515-271-3119, lisa.lacher@drake.edu
Construction began at Drake University this month in an effort to unify the campus in a green landscape while reducing the presence of motor vehicles. As part of the University's Campus Master Plan, the main focus of the project is to emphasize an environmentally sustainable area.
"You will see a reforested, re-graded pedestrian plaza designed for foot traffic and small service carts," said Mark Chambers, facilities operations manager. "There will be numerous plantings along the way, new sidewalks, benches, trash receptacles and bike racks."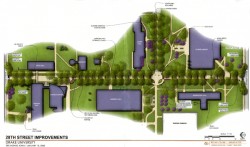 The project is transforming 28th Street into an eco-friendly pedestrian walkway.
The portion of 28th Street between University and Forest Avenues has been removed and will be replaced with a wide, eco-friendly pedestrian walkway.
The path will be lined with nearly 80 red oak trees and more than 350 shrubs. In keeping with the goal of sustainability, recycled plastics and metals will be used in the benches and trash containers.
The walkway will become a natural drainageway that will help contain and absorb rainwater, and it also will be accessible to emergency vehicles.
In addition, Carpenter Avenue between 27th and 28th Streets will be removed and replaced with an elevated concrete canvas for annual Relays street painting.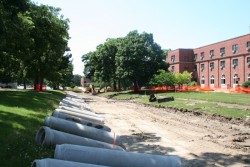 Drainage pipes await installation along Carpenter Avenue, also known as the "painted street," which will be elevated and resurfaced.
The project is funded by a $1.5 million federal grant from the Department of Transportation in an effort to increase pedestrian traffic in areas such as Drake's campus. The project is scheduled to be completed this November.
Although the project won't be finished in time for the start of classes in August, Chambers assures that the facilities staff will assist with pedestrian traffic in every way possible during construction.
"Drake has waited a long time for an opportunity like this to come around," he said, "and I think it will be worth the little bit of inconvenience to see it come to fruition."
The project was designed by Confluence (formerly Brian Clark & Associates), a firm of landscape architects and planners in Des Moines. Elder Corporation is the general contractor.