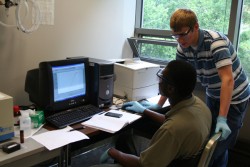 Sam Nkrumah-Agyeefi (seated) and Ryan Johnson (standing) record the fluorescence emission spectrum of a dye using a spectrofluorimeter.
MEDIA CONTACT: Lisa Lacher; 515-271-3119, lisa.lacher@drake.edu
Two Drake University students and two Des Moines East High School students are collaborating on chemistry research on Drake's campus this summer. They are working eight hours a day for a period of eight to ten weeks in a chemistry lab in Cline Hall.
Drake students Ryan Johnson and Samuel Nkrumah-Agyeefi were selected to participate in the research project by Mark Vitha, Drake associate professor of chemistry.
Nkrumah-Agyeefi, a junior biochemistry and molecular biology major from Ghana, knows the experiences at Drake have been enriching. "Here, I am exposed to enhanced research and get to spend one-on-one time with professors, which is very important," he said.
The students from East High School — Carolina Chavez and Zoila Sarmiento — were selected by their chemistry teacher to work on the project. They are being supported by a $5,000 grant called Project SEED from the American Chemical Society.
"I have always really liked science," said Sarmiento, a senior, "but this gives me a chance to see if it's something I want to continue." Chavez is a junior at East.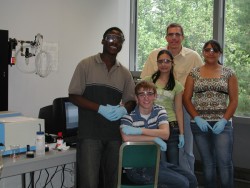 The research group (from left): Sam Nkrumah-Agyeefi, Ryan Johnson, Carolina Chavez, Mark Vitha and Zoila Sarmiento.
Learning more than just research
Vitha is working with the students as their scientist-mentor. He
oversees the research and also helps students expand their awareness
and understanding of the workforce.
Johnson, a sophomore chemistry major from Des Moines, knows the value of this opportunity.
"The knowledge and
experience we're gaining through this project is great," he said. "Dr.
Vitha teaches us not only about science and chemistry, but about the
business, too."
Although this is the first time any of the students have conducted
laboratory research, Vitha has been impressed with the students'
attitudes and abilities.
"The college students have been very good teachers and mentors to
the high school students, and the high school students have asked good
questions that help the college students learn more thoroughly."
Their research focuses on the effects of different solvents on the
light-absorbing and -emitting properties of dyes. The long-term goal is
to study a large number of different dyes and, once their behavior is
understood, to use them to characterize surfactant solutions.
Surfactants have a number of applications, ranging from household use
in dishwashing detergent and shampoo to industrial application to help
enhance the amount of oil recovered from reservoirs.
All four students are also participating in the Drake Undergraduate Science Collaborative Institute, a program designed to promote, support and coordinate efforts
to fund undergraduate research in math and science. This means that, in
addition to the research, the students are giving presentations and
will write a summary of their results to present on July 28. Fourteen
students are participating in DUSCI this summer.
"It's like an industrial internship, but better," said Vitha,
"because businesses don't usually focus on writing and speaking skills
as much."
Established in 1968, Project SEED is aimed at encouraging
economically disadvantaged students and underrepresented groups to
explore chemistry as a career option. For more information on Project SEED, visit the project's Web site.